Weekend Open Bar: an old friend that you have missed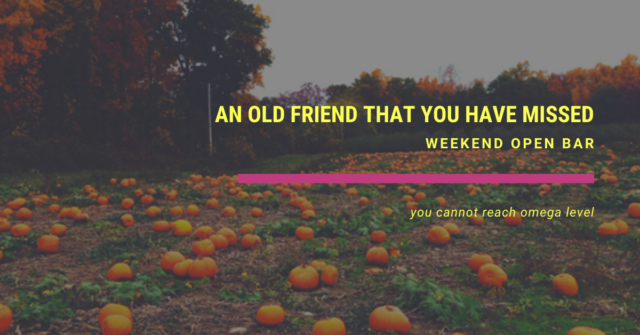 It's a Stephen King quote, friends! But it's applicable both existentially, and to OL proper! Ya'll are old friends that I have missed as of late. Lately, I've been eating an absolute speed bagging to my proverbial balls. Not even in a bad way, if you can believe it. Rather, just extremely long days sitting in a chair and staring into the void of a webcam while teaching. Immediately followed by a hollowed-out feeling of exhaustion when the daily gauntlet is completed.
Fall semesters are always draining, but they're doubly draining in this new (and perhaps temporary?) digital world. Everything just flat-out takes more fucking time than it used to. Want to do group work? You can't just print shit! Gotta assemble individual files for each group's section, upload said files to Google Drive, check that they're in the right folder, confirm that they're shareable. Blah, blah, blah.
The actual classes? Pretty fucking rewarding, if not more challenging. "Can you turn on your webcam?" has supplanted "Hey are you on your phone?" as the go-to plea from teacher to student. But, legit. I'm enjoying my time with the students, given that I love both teaching and the younger generations.
Just. You know. Tiring!
Anyways, enough of my recapping the past few weeks. It's the fucking Weekend! Which mean I get to recuperate for a few days! Theoretically, while hanging out with you! It's the goddamn Open Bar, comrades!
How are you spending this early Autumn siesta from the work week? Decorating with some Halloween shit? Enjoying the weather with a hike or some shit? Staying inside and refreshing Walmart's website hoping to snag a PlayStation 5? Tell me! Tell me everything.
I've missed you, old friends.