Weekend Open Bar: Take a breath, my dudes!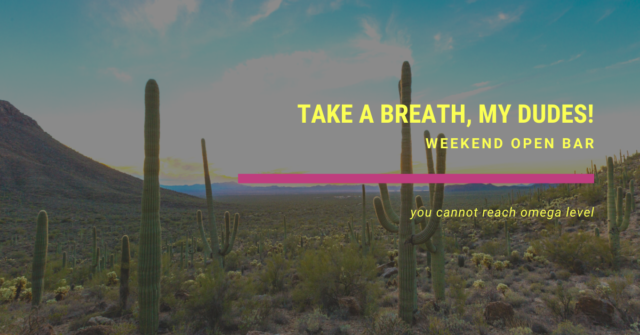 My, oh fucking my!
It's the end of the week, friends! It's the end of the semester, friends! And, it's a long weekend friends! Praise JCVD, my friends! The All-Father has delivered me to the end of the weird, wild, awful online semester, and I'm stoked.
As well, I found out that due to budgetary problems — if you don't know this yet, COVID-19 has lit higher education on fire — I can't begin summer tutoring until June 1. So, not only is it a long weekend, but I'm fucking off until June 3.
My, oh fucking my!
I'm really, really, really fucking relieved at the current state of affairs. Oh, sure, I could let myself get dragged down in existence. Democracy is dying in the United States (it's actually been dead for a while), it hit 80 degrees in the Arctic this week, and my groin is permanently pulled.
But, I ain't gonna focus on that! Instead, I'm going to hang out with you pricks at the Open Bar! It's the Weekend! Let us gather, sharing in revelry and our plans for the next couple of days!
Are you like me, crushing your current favorite tome? Are you like me, playing a video game of choice? Are you like me, worrying about the smell of your taint in the mid-day sun? I want to know! Let's spend some time.
This is Weekend Open Bar!