Christmas Week Commute: How're ya now, Christmas season?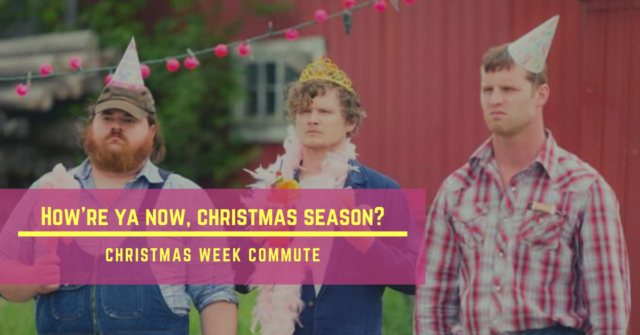 Oh sweet fuck, we've made it to the end of the year! When we all shut it down, thank the Maker we've crossed the darkest days of the year, and now (if we're fortunate enough) we get to engage in sweet, sweet consumption. Consuming products. Consuming massive amounts of calories. And, Elder Ones willing, consuming some quality time with friends and family.
And! I hope ya'll are some of the friends and family I get to spend time with this week! Here at the Christmas Week Commute!
Let's shoot the fucking shit. Tell me what you're going to be doing, this holiday week. Going to the movies? Ripping open gifts? Eating so much lasagna that your farts melt time and space?
I want to know!
—-
tv watching:
new letterkenny!
watchmen!
my hero academia!
—-
playing:
star wars: jedi: fallen order thing!
gears 5!
sayonara: wild hearts!
—-
movies consumed this week:
wicker man!
rise of the skywalker (sigh)!
dark waters!
escape from los angeles!
highlander 2: the quickening!
—-
ready for:
eating too much!
sleeping a lot!
hanging with friends!
streaming on christmas!
—-
That's my week, comrades! What the fuck are you up to?!