Long Weekend Open Bar: Eternal Thanks to JCVD for this Mini-Vacation!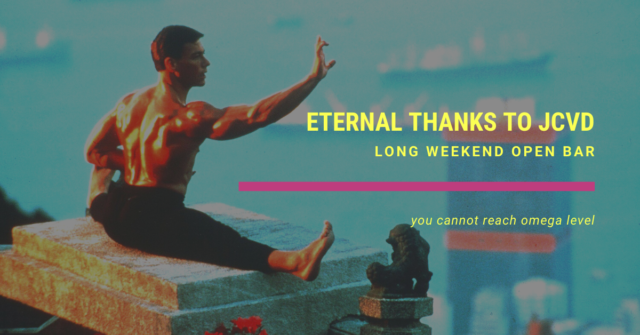 Eternal thanks to JCVD, I've fucking made it to this mini vacation. Thanksgiving to the Man Himself, you know? I woke up this morning on the start of my Long Weekend, and, fuck. I actually slept well. It's amazing how glorious emerging from a deep slumber is, especially when there's no alarm clock awakening you. I hope you're as fortunate enough as me to be embarking on your own mini-vacation.
And if so, I hope you'll spend some time during it here at the Open Bar.
Sharing what you're going to be doing amid this temporary Oasis. Eating so much you gotta pop your top button? Catching-up on Watchmen, or sweating The Mandalorian? Rock fighting the elderly for a PS4 Pro bundle on Black Friday? I want to know!
And if you're not fortunate enough to be on your own mini-vacation, come here and bitch! I'm here for you. We're here for you.
Let's spend some time together this weekend at the beginning of the Holiday Season.
This is [Long] Weekend Open Bar!