HBO's 'Watchmen' TV series casts Jeremy Irons as Ozymandias and this is so fucking good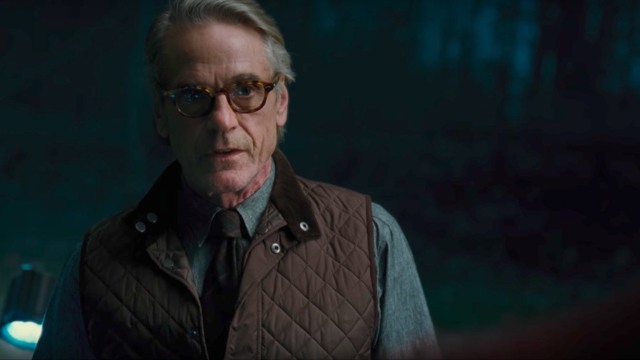 Toot toot goes the fucking Watchmen TV series hype train, or some shit. Cause, I mean. Jeremy Irons as Ozymandias? Fucking perfect.
Warner Bros has secured Oscar-winning actor Jeremy as an older version of Ozymandias in HBO's upcoming Watchmen series. It's not Irons' first foray into the comic book world; the actor played who played Alfred in Batman v. Superman: Dawn of Justice (but like, Reversal of Man though).

Confirmation of the casting comes from /Film, and the site also reports Emmy award-winner Jean Smart (Legion and Fargo) will star as Agent Blake, a series regular only described as an FBI agent "tasked with tracking down vigilantes."

HBO's Watchmen will take place decades after the comic, which means this announcement would presumably mean Adrian Veidt (a.k.a. Ozymandias) is still alive. However, given Watchmen's proclivity for telling stories within stories, we can't rule out the possibility Irons is playing some sort of posthumous version of Veidt.

Consider this for two reasons. A set photo (via /Film) from June showed a headline with stating Veidt recently died, though Veidt is certainly the kind of man who would fake his own death. But set photos from earlier this week also revealed the existence of a in-story documentary called American: Hero Story Minutemen, which appears to follow Hooded Justice and the early costumed vigilantes of the Watchmen universe (more on why that's very important). It's possible Irons' role will exist within that framed narrative.

It is still unclear which of Watchmen's main characters will appear in the series, and the list of mysterious castings does not help narrow it down. So far, the cast includes Regina King, Don Johnson, Tim Blake Nelson, Louis Gossett Jr., Yahya Abdul-Mateen II, Adelaide Clemens, Andrew Howard, Tom Mison, Frances Fisher, Jacob Ming-Trent, Sara Vickers, Dylan Schombing, Lily Rose Smith and Adelynn Spoon.

jean smart agent blake hbo watchmen silk spectre
Actress Jean Smart attends 8th Annual FX All-Star bowling party at Lucky Strike on April 6, 2017 in New York City. (Photo by Ben Gabbe/Getty Images)

The time jump also gives series creator Damon Lindelof the freedom to introduce brand new characters, while still incorporating elements of the classic world from Alan Moore and Dave Gibbons' original work. Smart and Irons are the most revealing casting details yet, and the name of Smart's character, Blake, would seem to suggest she's somehow related to The Comedian (civilian name Edward Blake). It's a stretch, but perhaps she's playing an older version of his daughter, Laurie, who went on to become the second Silk Spectre.