'Men In Black' reboot reteams Tessa Thompson with Chris Hemsworth. This is ragnarockin', my dudes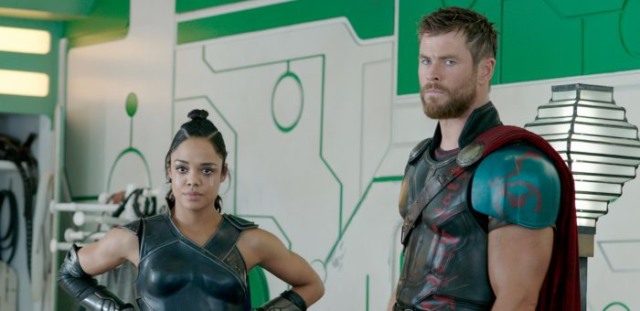 Man, this is fucking wild casting. Tessa Thompson is rejoining Chris Hemsworth for the Men In Black reboot, after crushing it together in Thor: Ragnarok.
It's a 'Thor: Ragnarok' reunion!

Valkyrie and Thor are reuniting.

Tessa Thompson is joining her Thor: Ragnarok co-star Chris Hemsworth in Sony's Men in Black reboot.

Fate of the Furious filmmaker F. Gary Gray is set to direct the movie, written by Iron Man screenwriters Matt Holloway and Art Marcum. The studio has the film dated for June 14, 2019.

Akin to how Jurassic World revived the Jurassic Park film series, Sony's reboot is to feature new characters rather than Agents K and J, portrayed by original trilogy stars Tommy Lee Jones and Will Smith, respectively, and will build on the contemporary sci-fi world in which they operated.

Details are being kept hidden under a New York City ventilation tower, but sources say the new project is more of an ensemble piece than a two-hander and will be more global in scope.

Hemsworth's deal isn't closed but is expected to.

Walter F. Parkes and Laurie MacDonald are back as producers, while Steven Spielberg is returning as executive producer.

David Beaubaire is overseeing for Sony.

In addition to her scene-stealing work as the Asgardian warrior Valkyrie in Ragnarok, Thompson appeared in Alex Garland's recent sci-fi picture Annihilation and is currently shooting Creed II, returning for the boxing drama sequel along with Michael B. Jordan. This summer she'll stars in Annapurna's Sorry to Bother You and has a prominent role in HBO's upcoming second season of Westworld, which launches this spring.

She is repped by Greene and Associates, Mosaic and Jackoway Tyerman.