Ava DuVernay is directing Jack Kirby's cosmically glorious 'The New Gods' for DC Films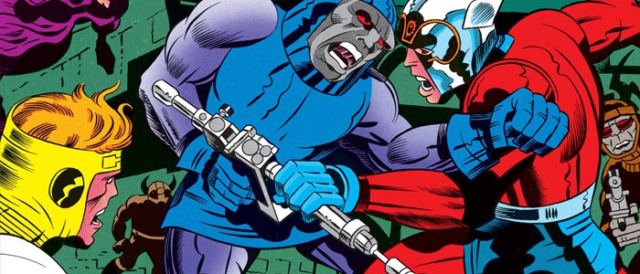 This is one I don't think any of us saw coming. Wrinkle In Time director Ava DuVernay is helming an adaptation of The New Gods for DC. I don't know what to think, but I'm certainly fucking intrigued.
Darkseid is … under the direction of Ava DuVernay.

The "A Wrinkle in Time" director will reportedly direct the film version of "New Gods," one of DC Comics' most cherished properties, created by comic book legend Jack Kirby in 1971.

The "New Gods" universe features some of DC Comics' most popular characters outside of its famed Superman, Batman, Wonder Woman trinity, including Darkseid, his son Orion and Mister Miracle.

In December, DuVernay hinted at her interest in "New Gods" as she tweeted that Big Barda was her favorite superhero. On Thursday, she tweeted a photo of Kirby.
Darkseid is considered by many to be DC Comics' top villain. Many fans were upset that Darkseid wasn't the villain in the much-maligned "Justice League" movie, a move that makes a little more sense now if it turns out a "New Gods" movie was being developed while "Justice League" was in production.
Darkseid (top/center) would likely be a major part of a "New Gods" movie from Warner Bros. /DC Entertainment. Art by Jason Fabok. (DC Entertainment)
If DuVernay and WB/DC can get this adaptation right, fans will likely forgive the decision to use the much weaker and a heck of a lot less interesting Stepphenwolf as "Justice League's" antagonist.

DuVernay has a wealth of comic book treasures to utilize with the "New Gods," from the initial run of Kirby and the late '90s works of John Byrne to the current critically acclaimed "Mister Miracle" miniseries from Washington-based writer Tom King and artist Mitch Gerads. Fans will no doubt be anticipating the drama of Darkseid and Orion's complicated father/son relationship. Orion was raised in New Genesis and taught to believe the ways of his father's world of Apokolips are wrong. But at times Darkseid's DNA can take control of his temper, in contrast to Darkseid's typically calm demeanor alongside the chaos of his world. Mister Miracle would be expected to be a master escape artist and Big Barda could have a Wonder Womanlike impact on a "New Gods" film, given her strength and fearlessness.

[ New DC Comics imprint DC Black Label will give creators the power to tell new, legendary tales ]

In 2015, it was widely reported that DuVernay was in contention to be the director of Marvel Studios' billion-dollar behemoth "Black Panther." That role eventually went to "Creed" director Ryan Coogler after DuVernay took herself out of consideration for the job. Now this "New Gods" news distracts slightly from the buzz of Marvel Studios's new "Avengers: Infinity War" trailer which dropped Friday morning. Whether that was an intentional move by DC against its rival is hard to say, but surely DC has to be happy with the (for now) positive movie news trending online.

Any live-action "New Gods" movie would be an expensive, CGI heavy production, two things DuVernay is very familiar with now after directing "A Wrinkle in Time" for Disney. A "New Gods" movie represents the type of bold decision-making that shows WB/DC will not let previous failures and polarizing films stop them from trying to get back to their glory days of superhero movie making.

The DC Extended Universe has had other hopeful signs recently. Patty Jenkins's "Wonder Woman" was a hit and has produced a soon-to-be in production sequel, and there's the hope that James Wan's "Aquaman" (starring Jason Momoa and coming to theaters this November) will have the same impact. "Shazam!" is in production (starring Zachary Levi), but so far leaked photos aren't inspiring much fanboy approval.

WB/DC is likely hoping DuVernay can boom tube them in the right direction, and that the "New Gods" can give them a new classic.