Chris Hemsworth and director Taika Waititi talked 'Thor 4' on New Year's Eve. Obligatory Thorgasm remark, right?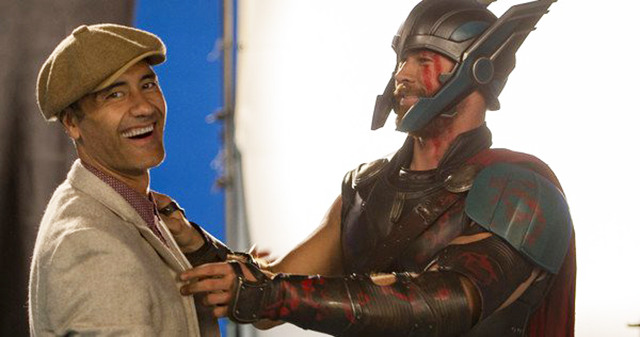 I want more Thor, god dammit! And it seems I'm not alone. It appears that after the success of Thor: Ragnarok, and the freedom the actor enjoyed in it, Chris Hemsworth wants more too.
Chris Hemsworth had much to be thankful for on New Year's Eve. Family, health and, oh yeah, that major success with the box office smash Thor: Ragnarok.

So it was helpful that Hemsworth rang in the New Year in Australia with his family and Ragnarok's director Taika Waititi — his partner-in-crime in redefining the Thor character so brilliantly in the critically acclaimed Ragnarok.

"We gave cheers… a few times," Hemsworth tells USA TODAY.

They even talked what-ifs. Hemsworth's contract with Marvel Studios ends with Avengers 4, which he just completed. So that could technically mark an end to his Thor days.

But Hemsworth and Waititi couldn't help talking about the question on the minds of fans of the rejuvenated Norse demigod — what if the (wise) studio decision was made to re-team Hemsworth and Waititi for a fourth Thor film.

"We gave cheers to Thor 3. But it also was like what could we do with four? We could do this and this. We were throwing ideas around," says Hemsworth. "But also, just to work together again. That was one of the most enjoyable creative partnerships I've ever had."

The Thor discussion is going to have to wait until after Hemsworth appears with the Guardians of the Galaxy crew in Avengers: Infinity War (opening May 4) and in Avengers 4 (May 3, 2019), which is still shooting with its supreme cast of superhero characters.

"It just depends on how The Avengers (movies) all wrap up," says Hemsworth. "I finished shooting and now they are going to edit it and see how the stories play out. There are so many interwoven scenes and stories and characters."

"(Thor 4) is a conversation for further down the road, if it happens," Hemsworth adds.

Next on the road, Hemsworth appears as a horse-riding Green Beret hero in 12 Strong (opening January 19).