'Ready Player One' gets first official image from Spielberg's adaptation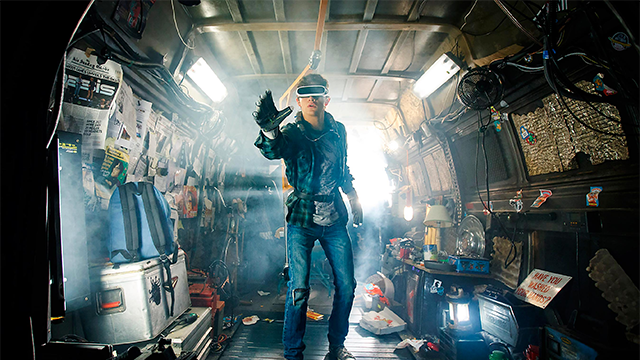 RPO, a shameless masturbation of 1980s and early 90s culture, and fusillade of fan service, is getting a movie adaptation. It's coming courtesy of Steven Spielberg, and if you're wondering how the book is going to translate, here's your first look.
Though the much-anticipated adaptation of Ready Player One won't hit theaters until March 30th of next year, we now have our first solid look at Tye Sheridan as Wade Owen Watts. It's a good start. We get to see Wade's VR hideout as it exists in the real world, a place where there's a vast gulf between the wealthiest individuals and the folks eking out a meager existence. Wade's in that latter camp but he clings to the hope that discovery of the treasure to end all treasure will end his life of poverty.

Author Ernest Cline absolutely filled his novel with 80s-era references, notably to the works of Steven Spielberg himself. Cline said, "His work directly influenced the narrative and the way that I told the story. So to have him directing, it's too perfect to even be possible. And somehow it's happened." Some of those references are captured in the following image which suggests that the movie itself is going to have some incredible rewatch potential.
The image above takes place in Wade's own private sanctuary, a partially destroyed van hidden in a junkyard littered with discarded cars and located on the perimeter of a poverty-stricken area known as the Stacks. The Stacks is where the teenage Wade lives with his aunt (and more than a dozen others) in a precariously perched trailer that's literally stacked on top of other trailers. This hideout offers an escape from that reality, and the virtual reality world of OASIS offers Wade further escape still.

It's in the OASIS that Wade (a.k.a. Parzival) and his closest friends and allies Art3mis (Olivia Cooke), Aech (Lena Waithe), and I-R0k (T.J. Miller) race to find the clues that lead to the greatest treasure in the world, marking them as egg hunters, or "Gunters." They'll try to stay a step ahead of Nolan Sorrento (Ben Mendelsohn), who is the IOI corporation's chief of Oology (the study of eggs), and who's not above committing mass murder to secure the treasure for himself.