Miles Morales in animated 'Spider-Man' movie to be voiced by 'Dope' star Shameik Moore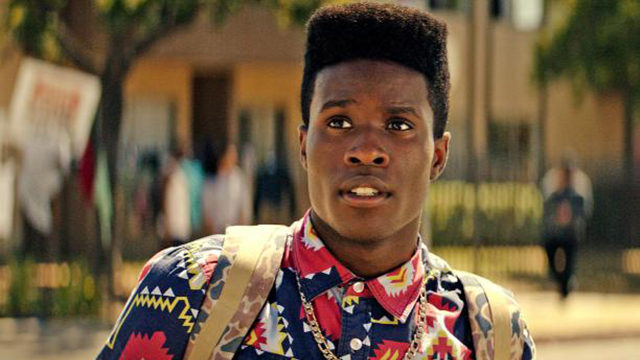 Shameik Moore, star of Dope, is going to be voicing Miles Morales in the animated Spider-Man movie. Great choice, as Moore crushed it in Dope with a youthful, cool (perchance dope?!) performance.
We already met a new Spider-Man in the Marvel Cinematic Universe's Captain America: Civil War, with Tom Holland suited up as the webslinger. But Sony Pictures also wants to give fans a version of the wallcrawler that they've wanted to see on the big screen for a long time.

An animated Spider-Man movie has been in development at Sony Pictures for a little while now, and this version of the Marvel superhero will focus on Miles Morales, a popular incarnation of the webhead who was introduced to fans in 2011 and whose secret identity is a half-black, half-Latino high schooler. Now Sony has finally hired someone to voice this version of Spider-Man, and it's Dope and The Get Down star Shameik Moore.

You may not know Shameik Moore by name, but that's because he's an up-and-coming talent who made his breakthrough performance in the Sundance selected indie Dope, which you can watch on Netflix right now. Since then, he's starred in Netflix's series The Get Down from Baz Luhrmann. A couple years ago, we hoped that Shameik Moore would be considered for the role of Spider-Man when the character was being cast for Captain America: Civil War, but Marvel Studios ended up going with the Peter Parker version of Spidey again.

In addition to finding the lead for the animated Spider-Man movie cast, The Hollywood Reporter also reveals that X-Men Origins: Wolverine and Ray Donovan star Liev Schreiber has landed a role in the untitled Spider-Man movie as the villain. Unfortunately, they don't indicate which villain he will be playing, but he would make a great Kraven (a big game hunter who sets his sights on Spider-Man), a villain we haven't seen on the big screen yet.

It was the Miles Morales version of Spider-Man that fans hoped Donald Glover would play when it was announced that the series was being rebooted the first time around, though that role ended up going to Andrew Garfield. Instead, he ended up voicing the character in Disney XD's Ultimate Spider-Man animated series, which left him out of the running for the animated feature, likely to avoid confusion.