Armie Hammer joining Alicia Vikander for director Ben Wheatley's 'Freakshift'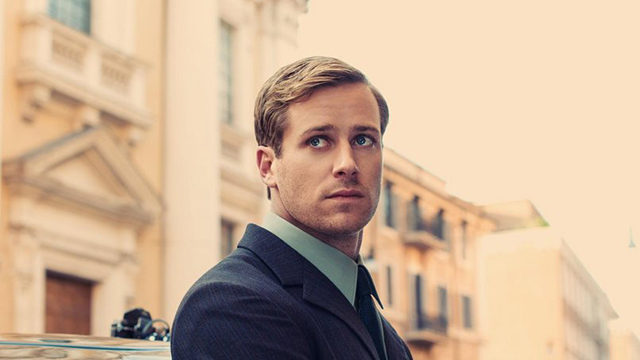 Armie Hammer and Alicia Vikander are pretty fire together in the underrated Man From Uncle. In fact, I just watched that shit again this last weekend with the wife. #SHINFO. #SHINFO. So I'm pretty fucking onboard with them reteaming for Ben Wheatley's next flick.
After working with the actor on Free Fire, director Ben Wheatley has a role for Armie Hammer in his next picture, Freakshift. The film is already set to star Alicia Vikander (Ex Machina) in a story about monster hunters. Hammer, who's built like a tree, could convincingly dispose of a few monsters, but it's unclear whether he's on the team hunting them down.

According to Deadline, Hammer is playing Vikander's love interest. The outlet reported Vikander's casting as well, and they described the story as an "all-guns-blazing action thriller about a band of misfits who hunt down and kill nocturnal underground monsters." Wheatley co-wrote Freakshift with his frequent collaborator (and wife), Amy Jump, who co-wrote and edited a few of his movies, including Kill List and High-Rise.

Filming is expected to begin on Freakshift this August, once Vikander wraps the video game adaptation, Tom Raider, and months after Wheatley and Hammer's first of hopefully many collaborations, Free Fire, hits theaters. The movie, which  Martin Scorsese executive produced, has made some passionate fans on the festival circuit, including our own Jacob Hall and Angie Han.

They both thoroughly enjoyed Hammer's performance, praising him for playing one charming, funny, and smarmy asshole. "Armie Hammer makes the most of Ord's above-it-all cool and somehow gets even better after Ord is dragged down into the dirt with the rest of them," Han wrote in her review. She called Free Fire's feature-length shootout a "furiously entertaining exercise" that left her "buzzing with energy long" after she left the theater.

That description sure does sound like a Ben Wheatley film, whose movies have the power to last. When you leave the theater after seeing one of his films, you exit an experience you won't easily or quickly forget. There's nothing cookie-cutter about his movies. It looks like Freakshift is next for him, but another project he's attached to is an adaptation of Frank Miller's Hard Boiled, but we'll have to wait and see on that Warner Bros. project.

Hammer has a promising year or so ahead of him, with his mostly solo performance in Mine and a performance Angie Han called "mesmerizing" in Luca Guadagnino's Call Me By Your Name. The Social Network, The Man From U.N.C.L.E., and from the sound of it, Free Fire, show what charisma and talent Hammer has as an actor. He's the kind of talent we want to see collaborating with Wheatley, who can probably help take the actor to some new, unexpected places.