[Review] Horizon Zero Dawn: A Mass Effect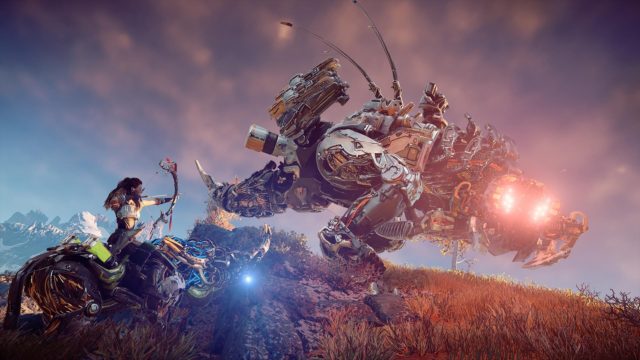 I told myself I'd write this review after getting 10 hours of gameplay under my belt.  Then 15.  Then 25. Then I told myself I'd write this review after I beat the game. Well, here we are.  Two days out from what was supposed to be the biggest release of the year, Mass Effect: Andromeda.  Yet, I find the sound of HZD to be deafening.  This game was a phenom. It was out of the blue. It was a comet that was caught in our gravity and slammed into our collective conscious from the great beyond.
Where the fuck did this game come from? What was a "hey I'll check this out" game to "This game has rekindled my love of video games and made me a born again believer in the artistry of this medium come sit my child.  Stay awhile and listen."
The amount of love involved in this title is obvious from the start. Every move, every menu. Every action, every arrow. This game oozes polish. It simply overflows with love and attention.
When you begin to talk about this game, your first inclination of course is to gravitate to the visuals. It's obvious.  It's upfront. The game is one of the best looking games of this generation.  Period. This game will have you feeling awe struck every few minutes. You'll just stop dead and stare at it. Which doesn't begin to cover the absolutely slick, uncharted-quality character animations. Aloy is a predator.  She moves so smoothly and with such precision. I could talk about the visuals for the entirety of this jumbled mess but to see the game in action is something that speaks for itself.
So now we have bleeding edge visuals, what about the meat and potatoes? The game is a mash-up of several concepts that one wouldn't think would mesh well yet come together to form an experience that is truly special.
It's at times Skyrim: Let me see what's in this cave oh god what quest was I on 3 hours ago?
It's at times Tomb Raider: I will climb, I will forage and I will survive.
It's at times Street Fighter: I'm going to slide, jump, spin my camera around, aim my bow, slow time, hit your weakpoint, land, roll out of the way, switch to my war bow, load up my shock ammo, stun you, freeze you, switch to my sharpshooter bow, load up 3 arrows and unload them into your massive mechanical dome.  If you don't execute, your opponent will punish you and quickly.
All these features and more come together to form a game that is somehow always engaging, always intriguing and always beckoning you to continue to play. Whether you're farming for a new bow, exploring to achievement hunt, climbing to get the best Photo Mode shot or pushing through the main quest, the game always delivers.  The lowliest machine in this game can lay you low if you don't take it seriously.  The human in this game are the fodder.  The machines rule. Taken any machine down feels epic and feels like you accomplished something.  You always feel powerful but never over-powered.
I don't want to drone on.  Suffice to say, everything this game attempts, it succeeds at.  Instantly likable protagonist. Instantly engaging plot. (why are humans tribal? who is making these robotic crocodiles? why do I enjoy hunting them down so much? when is the last time I pissed?) Instantly rewarding gameplay that continues to evolve.
I only have two complaints. At times, Aloy became Captain Obvious.  Some of her lines, especially during narrative dumps seemed a bit superfluous. She would state exceedingly obvious facts or observations.  Yet, they were still delivered well and Aloy is such a likable gal I instantly forgave her.
The ending has sufficient resolution and while I'm beyond stoked that we know we will have a sequel, I do feel a few more questions could have been answered while still leaving room for the inevitable expansion/dlc.  It's a minor gripe.
Here we are, two days out from the release of what should be the biggest game of the year. I haven't dove into the negative vibes currently swirling around Andromeda. At this point, ME has enough good stock with me that I will definitely try their game out no matter what.  That said, even if it ends up a giant stinking turd, somehow I feel we won't be worse off.  If one franchise dies or missteps at the beginning of this year, we clearly have another one to hitch our wagons to.
PS: I didn't spellcheck this, my daughter is yelling at me to help her with Rayman.
Contingency Plan out!