'The Dark Tower' Image: Gunslinger And Man In Black Do The Stare Down Thing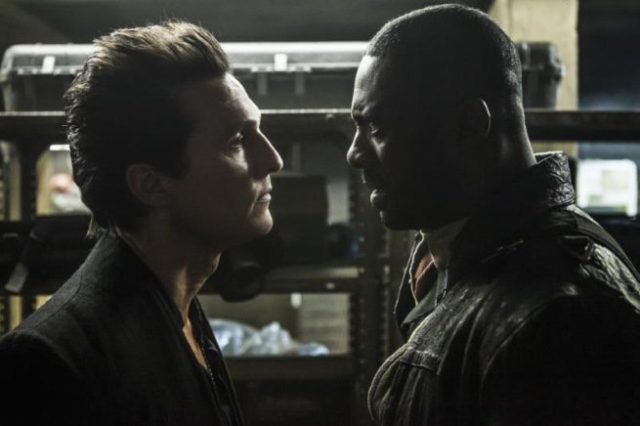 Here's a new image from The Dark Tower adaptation dropping next year. It's got itself a stare down between the Man in Black and the Gunslinger. I, uh, I don't have anything else to bring to this post, since I've never read the fucking series. But! Enjoy!
The last time we heard from Sony's upcoming adaptation of The Dark Tower, it was being delayed from February 17, 2017 to July 28, 2017, giving director Nikolaj Arcel and his team a few extra months to finish their movie. It's a decision that makes sense on two fronts: the original post-production timeframe did seem overly ambitious and of course the long-delayed, frequently troubled path to bring Stephen King's magnum opus to the big screen was going to offer up one more speed bump in the home stretch.

And while we have to wait an extra five months to finally see how Hollywood has managed to bring King's truly strange and truly wonderful fantasy series to life, there is a new image from the film to look at right now, if that's your thing.

The image finds Idris Elba's Roland Deschain, the last of the Gunslingers, facing down Matthew McConaughey's Walter Padick, otherwise known as the Man in Black. As readers of the books know, these two have quite a history together, with the latter being responsible of for the destruction of the latter's world and all. In fact, the first book begins with Roland in pursuit of his quarry and the chase really doesn't let up for a couple thousand pages, with the two arch-enemies occasionally catching up to one another for the occasional metaphysical discussion and such.

Since we already know that the movie will function as a companion piece to the books rather than a straightforward adaptation, the film has free rein to let these two meet up however and whenever they want. It's going to be very interesting to see how the film takes on their dynamic and even more interesting to see how these two actors bring them to life.