Liefeld relaunching 'Youngblood' with new Creative Team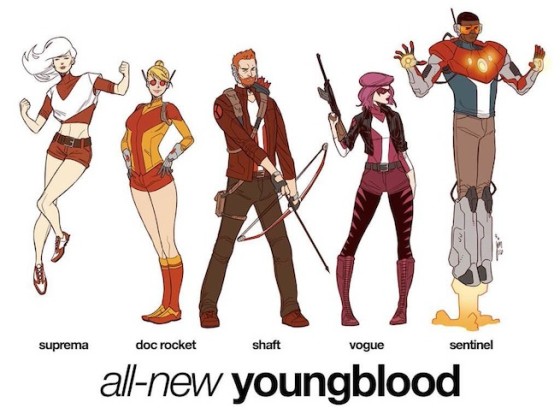 Man. I'm all about this. Rob Liefeld relaunched Prophet years back under the tutelage of Brandon Graham, and it became one of my favorite comic runs. Ever. So if history serves as guide (and, to be fair, often times it doesn't), this could be fantastic.
Rob Liefeld has announced a new volume of his creator-owned superhero series Youngblood. According to Liefeld, the new creative team will consist of  X-Men '92 co-writer Chad Bowers who will co-plot with Liefeld and script the series, and newcomer Jim Towe, who Liefeld discovered on Twitter after Towe posted redesigns of the Youngblood characters, seen here.

Liefeld launched Youngblood in the early 90s, quickly reaching the million-seller mark before the title burned out amid delays.

Though it's been relaunched several times, Youngblood has been dormant for many years, with several false starts, including a 2011 revival that never came to fruition.

Liefeld has an uncharacteristically self-deprecating attitude in the interview, saying they plan to avoid delays by having three issues in the can before the series is even solicited, and joking that he "didn't draw it — that's why it's good!"

The new team will include mainstays such as Shaft and Badrock, each of whom will get new powers early in the series, along with latter day inclusions such as Doc Rocket and Suprema, as well what appear to be some new characters.

Youngblood will launch at Image Comics some time in 2017 according to Liefeld, in time for the series' 25th anniversary.