Confirmed: 'Thor: Ragnarok' is heading to Planet Hulk; check out his Gladiator Armor from SDCC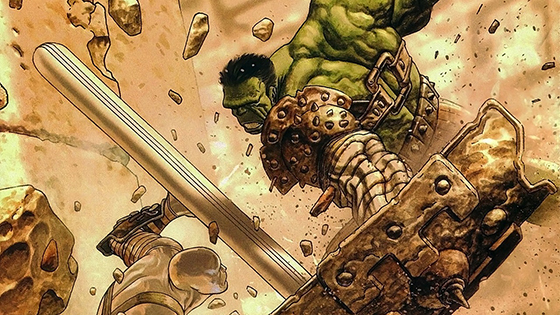 Thor: Ragnarok is heading into the territory of a classic storyline for the Jade Giant, Planet Hulk. I fuck with this development, I fuck with it so hard. Check out images of his Gladiator armor after the jump!
Ever since the Hulk officially joined Thor: Ragnarok, desperate fans have hoped that the film will in some way be adapting the Planet Hulk storyline. This year's San Diego Comic-Con seems to have granted them their wish, by providing a first look at the Hulk's armor in the movie.

Although the character will be motion captured, Marvel just unveiled a series of props at their SDCC booth replicating the armor and weaponry Hulk will be wearing when Thor encounters him in Ragnarok—something which has been rumored, and now seemingly confirmed, to include scenes of Hulk fighting in a gladiatoral arena on some distant planet. Here's a video of the reveal courtesy of Marvel Digital Media Executive Editor, Ryan Penago.