Netflix negotiating to complete and distribute lost Orson Welles' film 'The Other Side Of The Wind'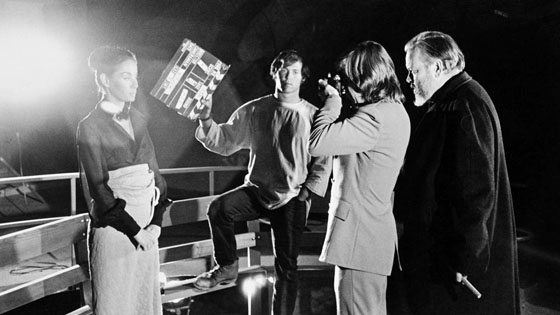 I didn't know that Orson Welles had a lost film! Well, Netflix knows. And they're negotiating for the rights.
It has been a long and winding road for Orson Welles' "The Other Side Of The Wind." For years, there has been a concerted effort to try and complete the director's "lost" film, but it has been slow going. A 2015 release date was teased but never materialized, while last year, an Indiegogo campaign raised $406,605 to help with the editing, score, and post-production work required. Word on the movie has gone quiet since, but it looks like one of the biggest movers and shakers in the industry is aiming to finally finish "The Other Side Of The Wind."

Wellesnet reveals that Netflix is negotiating with producers for a two-picture, $5 million deal that would include the completed "The Other Side Of The Wind," along with a companion documentary. The potential deal needs the signoff of producer Oja Kodar, and apparently talks have been going on for months.

Featuring a roster of Welles' buds including John Huston, Peter Bogdanovich, Henry Jaglom, Susan Strasberg, Dennis Hopper, Paul Mazursky and Claude Chabrol, the movie, shot in 8mm, 16mm and 35mm, follows an aged Hollywood director attempting to revive his career by making a trippy film filled with sex and violence.

Who knows if this latest attempt to finally finish "The Other Side Of The Wind" will pan out, and it's worth bearing in mind that Sasha Welles, Kodar's nephew, "has indicated negotiations have not gone as smoothly as he had hoped." Moreover, an attempt was made by Bogdanovich to complete 'Wind' for Showtime in 1999, but he ran afoul of Kodar, who he blamed for stalling the project.

"For decades we have been optimistic, otherwise we wouldn't be trying for so long to get this film released," Sasha Welles said about the current situation. "How optimistic should we be about this particular deal? Hard to tell. We have been dealing with [producer] Filip [Jan Rymsza]'s not-so-honest claims and promises; [producer] Frank [Marshall] brings the only legitimacy and fairness to their side. All in all, I am not so optimistic since they keep on chiseling away from our old agreement. Every time I give in to something they want, they come up with something else, this keeps going on and on and I don't know where the end is."

So, yeah, don't hold your breath. Meanwhile, those who backed the Indiegogo campaign are plenty upset about the lack of updates.