'The Hateful Eight' TV Spot and Poster remind you this rad movie is coming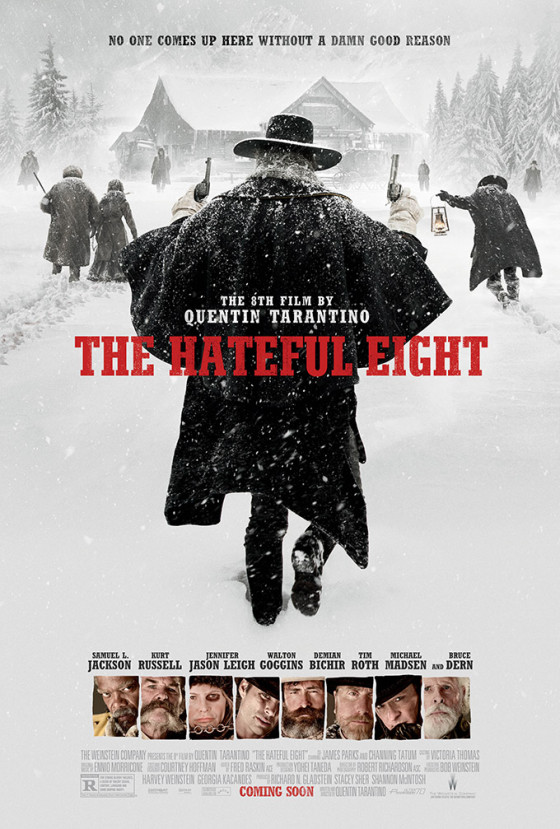 Or, at least, it reminds me. Between WarStar Awakens and The Revenant, I keep forgetting this glorious piece of cinema is almost upon us.
Going 70mm doesn't come cheap. With Quentin Tarantino rolling out his upcoming "The Hateful Eight" on old school celluloid next month, it'll be interesting to see if audiences care one way or another how the movie is presented. Certainly, there are Tarantino fans who will show up no matter how or where it's screening — they just want to see the movie. Others, however, might not make the extra effort to track down the cinema showing the movie in 70mm, especially during the busy holiday season, when it will be in their nearest multiplex a couple of weeks later. Meanwhile, The Weinstein Company is likely spending big money to realize Tarantino's vintage dream.

According to the Chicago Tribune, the city's Music Box Theater has sunk $40,000 in new sound equipment and speakers, and are renting a 40-foot wide screen, specifically for "The Hateful Eight." But as the AV Club point out, they already have a projector capable of handling 70mm, so that cost is likely lower that will be the required spend for most theaters. According to theater installation specialist speaking to The New York Times, $60-80,000 is probably the ballpark cost for most cinemas to get prepared for 70mm.

The Weinstein Company is essentially footing the bill, hiring Boston Light & Sound to refurbish projectors, train technicians, and get the proper lenses for the "The Hateful Eight" screenings in 70mm. It's costly and time-consuming, and, undoubtedly, it will require some significant ticket sales to make up that investment, with an estimated 100 theaters going old school.