'Minecraft: Story Mode' Episode 1 dropping October 13, will have physical version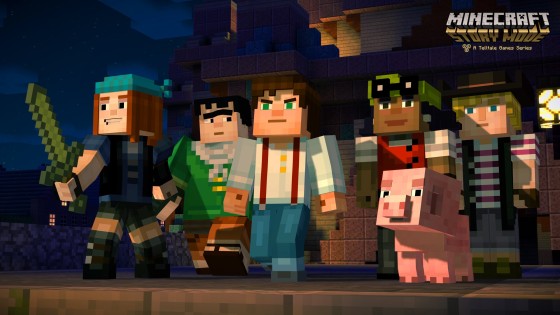 Don't doubt Telltale Games. I know you're wondering how the fuck they're going to make a story out of Minecraft and its user-driven experiential narratives. I am do. But don't doubt them. You'll see soon enough, they got it on lock. You'll see, October 13.
Telltale Games is continuing to expand its slate of episodic gaming this fall with the release of Minecraft: Story Mode, and now the studio has revealed when exactly players will be able to jump into its latest adventure.

The first episode for Minecraft: Story Mode, titled "The Order of the Stone" will release digitally on Oct. 13 for the PC, Mac, PlayStation 4, PlayStation 3, Xbox One, and Xbox 360. It will then release for iOS and Android devices on Oct. 15, with a Wii U and PlayStation Vita version also expected to arrive at a date to be announced.

For players still wanting a physical version of the game, Telltale will be releasing a season pass disc version on Oct. 27 for the PC, PS4, PS3, Xbox One, and Xbox 360. It will come with the first episode and then update with the next four episodes as they are released digitally in the coming months.

The five-episode series features Patton Oswalt, Catherine Taber, Paul Reubens, Ashley Johnson, Scott Porter, and more, telling an original story in the Minecraft world. Telltale is also currently wrapping up the first seasons of Game of Thrones, Tales from the Borderlands, and is set to release a three-part The Walking Dead series later this year.