Paul Feig reveals the new 'Ghostbusters' car. Behold the ECTO-1!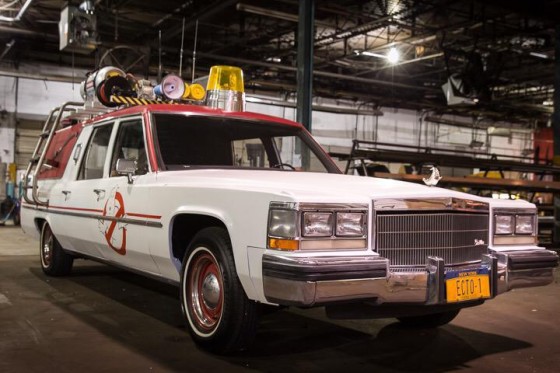 Every squad of Ghoster-Busters needs themselves a car to chase ghosts with. Paul Feig has revealed the vehicle his new squad will be employing to hunt down them ectoplasm bastards.
Ghostbusters reboot director Paul Feig has been tweeting out photos from the set of the new film. First it was the new Ghostbusters uniforms, then it was the proton packs, and now he's posted a photo of the new Ghostbusters vehicle. What does the new ECTO-1 look like?

I love the classic feel of the new Ghostbusters car. It would have been easy to go futuristic and modern with a new ECTO-1 but I love that Paul Feig went cheap and classic — it looks like a home-built custom rig and not something that would have taken a lot of development cash. Notice the ghost (slimer) hood ornament (photo below from Paul Feig's Twitter avatar photo, via Peter S Hall). So cool.

While the car is definitely different than the ECTO-1 from the Ivan Reitman 1980's classic, this new Ghostbusters car keeps much of the same style and color palette, including the classic "No Ghosts" Ghostbusters logo and the ECRTO-1 on the New York yellow and blue license plate. As for the make and model of the car, some readers have answers:

In the new Ghostbusters reboot, Kristen Wiig and Melissa McCarthy are rumored to play Erin Gilbert and Abby Bergman, "a pair of unheralded authors who write a book positing that ghosts are real."

"Flash forward a few years and Wiig lands a prestigious teaching position at Columbia U. (Like the original, the story takes place in New York City, even though it's being shot in Boston.) Which is pretty sweet, until her book resurfaces and she is laughed out of academia. Wiig reunites with McCarthy and the other two proton pack-packing phantom wranglers, and she gets some sweet revenge when ghosts invade Manhattan and she and her team have to save the world."

Kate McKinnon will be playing Jillian Holtzmann, Bergman's new partner. Leslie Jones will play Patty Tolan, an New York City subway worker who stumbles across the main supernatural threat in the film, and Chris Hemsworth is Kevin, the Ghostbusters' receptionist. Andy Garcia will portray the mayor of New York City. Michael K. Williams and Matt Walsh are playing Hawkins and Rourke, respectively. New York City's NY1 morning anchor Pat Kiernan will appear as a news anchor. Cecily Strong is also said to be part of the cast. And Neil Casey will play Rowan, a "creepy mechanical genius" who sees as the main antagonist of the film, Peter Dinklage was on the wishlist for the part way back when.