First Look: Matt Damon as astronaut in Ridley Scott's 'The Martian' adaptation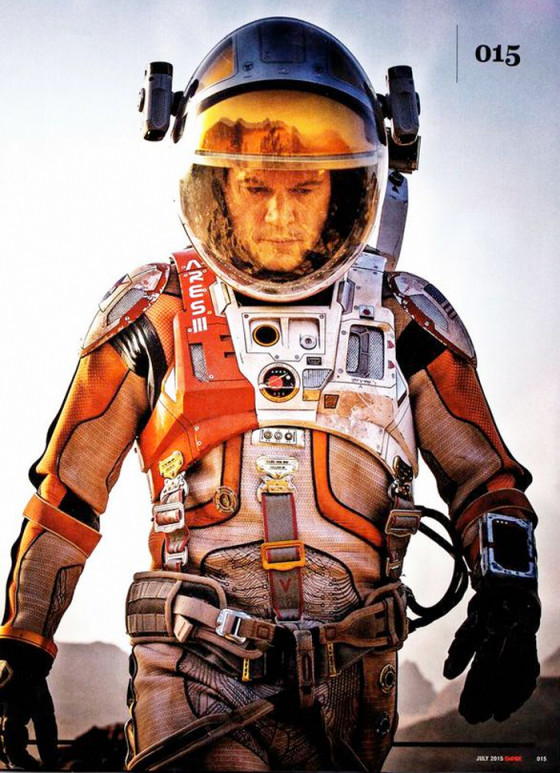 I'm all for space-suits. They're sexy. Borderline erotic. Them facets, and such. And I'm all for adaptations of good sci-fi novels, such as The Martian by Andy Weir. Which sure I haven't read but I probably should.
It might seem odd for Matt Damon and Jessica Chastain to star in almost back to back in sci-fi films that are kind of similar— Christopher Nolan's "Interstellar" and then Ridley Scott's "The Martian"—but evidently the resemblances weren't enough to scare off either actor, or the prospects of working with the director and his great cast were too good to pass up.

Written by Drew Goddard ("Daredevil," "The Cabin In The Woods") as a project he was originally going to direct, "The Martian" centers on an astronaut (Damon) who has just become one of the first people to walk on Mars. But after a dust storm nearly kills him and forces his crew to evacuate while thinking him dead, he finds himself stranded and completely alone with no way to even signal Earth that he's alive. Even if he could get word out, his supplies would be gone long before a rescue could arrive. But the astronaut isn't ready to give up yet (see the "Interstellar" similarities?)

Meanwhile a first look at Damon in the film has surfaced via Spanish site Entradanumerada.com (it looks like a magazine scan, but the site doesn't say). "Star Wars" fans will note the color scheme that doesn't look entirely dissimilar to the rebel pilot outfits, but that's probably just a coincidence or small homage.