'The Hateful Eight' images are snow-covered Tarantinoness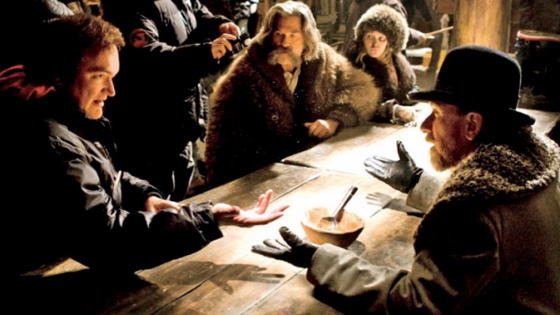 I don't even know what that fucking title means. And truthfully, I don't care. I'm just excited to be getting a better glimpse into The Hateful Eight.
The temperature may be rising, but the latest images from Quentin Tarantino's "The Hateful Eight" maybe leave you feeling a bit chilly. Yesterday we got the first official look, and now some new images from the pages of EW have landed online to give another glimpse at what's coming to cinemas this fall, in all of its 70mm glory.

Samuel L. Jackson, Kurt Russell, Jennifer Jason Leigh, Walton Goggins, Demian Bichir, Tim Roth, Michael Madsen, Bruce Dern,Channing Tatum, Zoe Bell, James Parks,Dana Gourrier, Keith Jefferson, Lee Horsley, Craig Stark, Belinda Owino and Gene Jones all make up the players in this movie about eight rogues who get snowbound in a frontier way station where things get heated, in this story set not long after the Civil War. And we can't wait to see the results.