Buy These Flippin' Comics!!! (2.18.15) – Life Is A Bitch (Planet)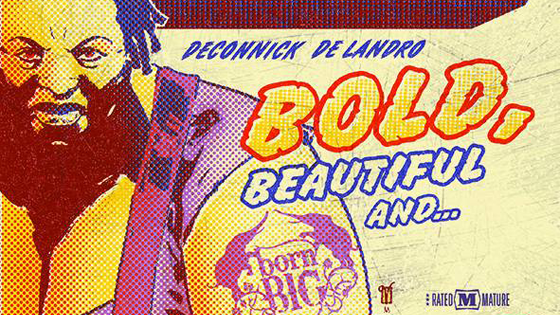 Okay! And we are live, again! Buy These Flippin' Comics!!! coming to you from the rotting guts of my Mind Palace. It's a lot like that dweeb Sherlock's Mind Palace, but the walls are covered in scrawling made from indiscernible fluids that are swearing fealty to the Gods of Diet Dew, Beards, and Buttocks. The room is constantly blaring the bass line to RTJ's Blockbuster Night Part 1, and everything is generally terrible. But that's where we're coming to you from! The fuck do you want me to do? Lie (cheatstealkillwin)? Ain't going to do it! This week sees a wonderful little collection of comic books hitting me upside the pocket, iPad, tangible bookshelf, booty, brain, and spirit. From the Marvelous Kamala Khan to Them Fucking Aliens out in the Asteroid Belt. From one final (She)-Hulking out to the glorious non-compliant members of Bitch Planet.
These are the comics I'm reading this week. Suggestions, much like free Dew and Nachos, are not just welcomed. They're fucking encouraged. (Because I'm a fatty caffeine addict, who is oblivious to all the good comics out there.)
—-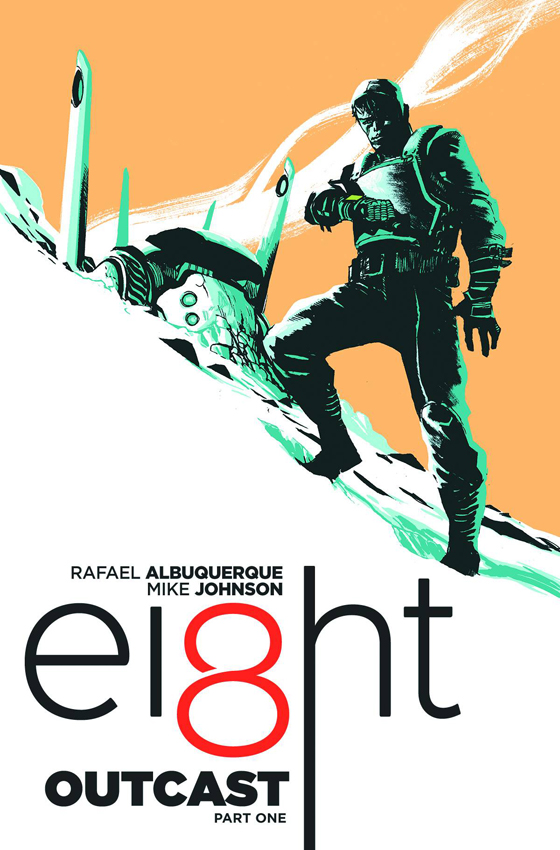 New Comic of the Week: Ei8ht #1 (Dark Horse)
Writer: Rafael Albuquerque  Art: Rafael Albuquerque  Cover: Rafael Albuquerque
Say what now? Motherfuckin' Rafael Albuquerque (American Vampire, Blue Beetle) is writing and drawing a science-fiction wonder? You had me at the fucking cover art, bruh. Just drink the above artwork into your oculuar sockets, and puke it into your Mind Palace. Just puke it all up! Save it for later. You can mill around the refuse later when you're looking for inspiration. Okay, okay. Enough about vomiting inspiration-chunks into your Mind Palace (for now). The comic's premise sounds wild as fukkk. With three K's to show you how wild. The main character is Joshua, who is stuck in the Meld. Which happens to be a most ungnarly dimension in time. Of course, the Good Chrononaut (fukkk I love typing something outrageous as that word) must find his way home. Go, Joshua. I shall go with you.
—-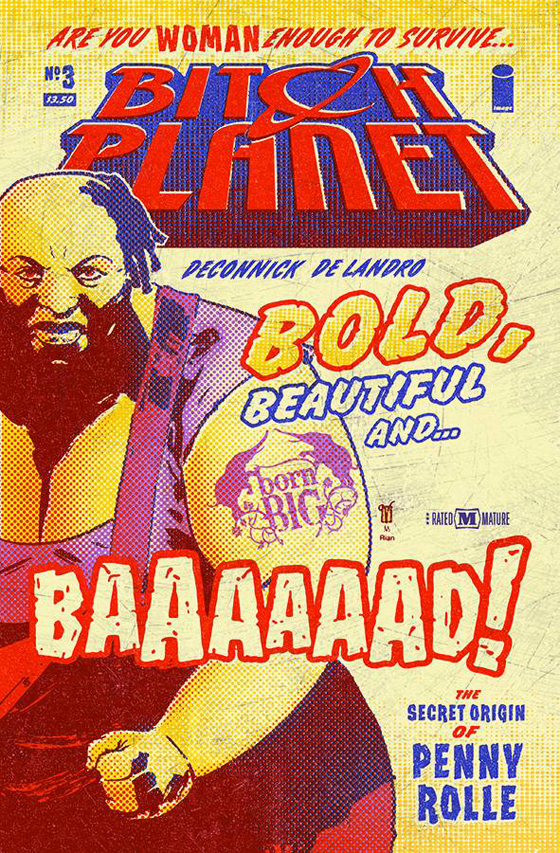 Comic Of The Week: Bitch Planet #3 (Image)
Writer: Kelly Sue DeConnick   Art: Robert Wilson Iv   Cover: Valentine De Landro
Fucking A, man. Bitch Planet is the most gnarly comic I've come across in a moment. First off, let's just get this out of the way: Valentine De Landro's artwork is some god-tier gorgeousness. Especially on an iPad, which is where I had to read it. Because I didn't have this shoved onto my pull list, like the errant bastard knave that I am. I mean Jesus Lawd the artwork pops. But what is a gorgeous set of sequential artwork without a tale to provide the spine? (Just a gorgeous set of sequential artwork which is pretty cool on its own, I admit it.)
Bitch Planet is swinging hard. Is it a protest comic? Probably. Is that awesome? Definitely. Is it content to challenge just the patriarchy? Fuck no. Is it ripping at the weeds of intersectional cultural problems that run parallel to patriarchy? The Government, the media, capitalism, race relations? Fuck yes.
I'm not sure where the comic is going. How long can they stretch out this first arc? Where will it go from there? I don't know, but I want to find out.
Also From Image: Speaking of challenging the Corporatocracy! Greg Rucka and Michael Lark's fifteenth issue of Lazarus is dropping. The comic that shows what happens when the corporations take that fucking hegemony to the genetic level! Which, if my wife's job in the BioTech industry is teaching me anything, is definitely coming.
—-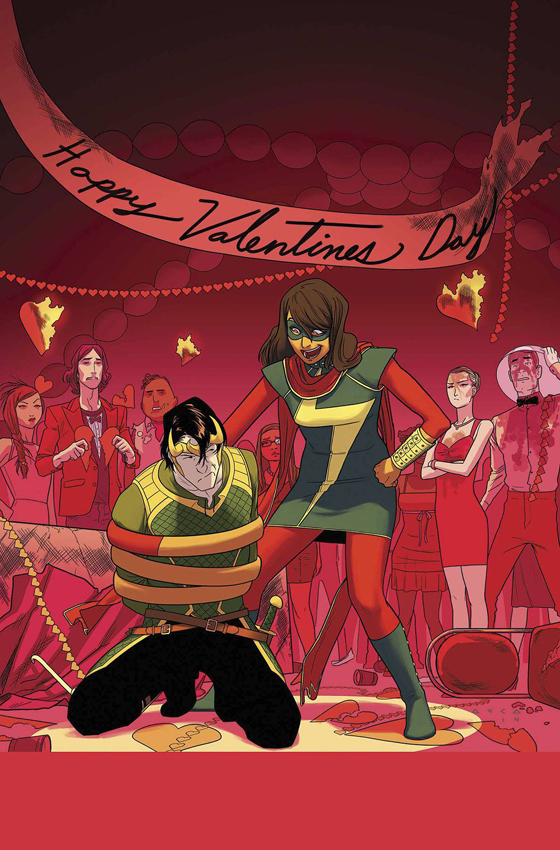 Ms Marvel #12 (Marvel)
Writer: G. Willow Wilson   Art: Takeshi Miyagawa   Cover: Kris Anka
Well, shit. I could have used this lovely Valentine's Day themed comic book four days ago, when it actually was Valentine's Day. The Wife was out of town on business. The snow was falling (again). Darkness had descended into my Mind Palace. The bass line thumped harder, the scrawlings became erratic, emphatic. Desperate. Like that fucking light Galadriel gives Frodo, I could have used this comic. To burn away the mutterings from Other-Ian. The one that says Eat All The Pizza. Then Order Another One. The one that says Sweatpants With Stains are fine to wear to TGIFridays, you don't respect Big Business prefabricated restaurant hell holes anyways. Sit at the bar! Yeah! Yeah! Order a Diet Cola and some Mozzarella Sticks. And wait for them to kick you out at closing!
I could have used your wonder, Ms. Marvel. I could have used this new installment by the talented G. Willow Wilson to lighten my heart, to dampen my darkness. To get me out of sweatpants and into my trusty Battle-Ready Jorts that I forged in my parents' basement nineteen years ago. The fluid-spills are BATTLE HARDENING. The blood stains are PROOF OF CONCEPT.
—-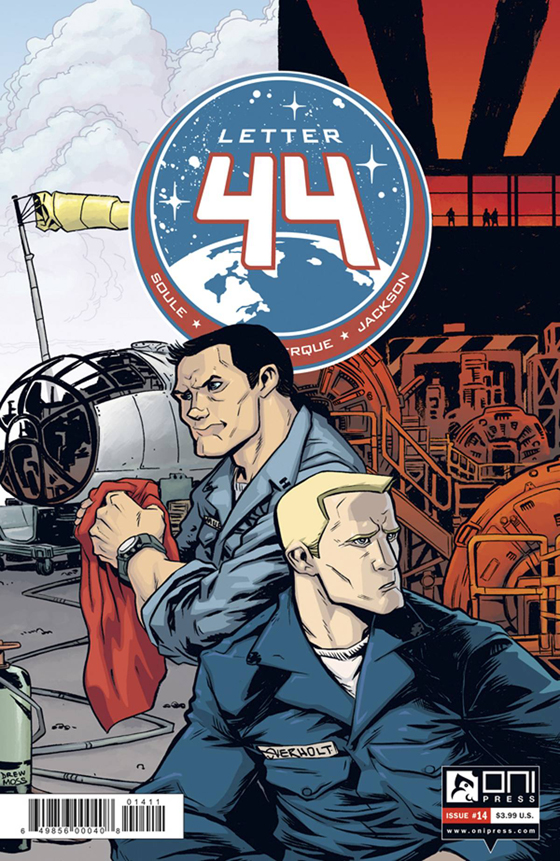 Backlog, Curiosities, and Such
Here's shit I'm either behind on, curious about, or and such! The word at the end of the category which means fucking nothing! I'm really behind on Letter 44. I need to read it, because I fucking love Aliens. I fucking love Asteroids. And I love Government Conspiracies. Everyone is losing their shit about all the Spider-Verse characters or whatever that are debuting. This week sees Silk #1 drop. Let me level with you! I have no idea what it is about, but I can tell you with certainty that Tumblr is very excited. Also in our last installment, Johnny Hotsauce recommended that check out the Hellboy and B.P.R.D. Well, wouldn't you know! B.P.R.D. Hell On Earth has a new issue dropping this week!
Finally – the final issue of She-Hulk drops this week. I have to say, I fucked up bad, folks. Fucked up, bad. Didn't read She-Hulk. And now it's over. This is on me. THIS IS ON ME. I killed Arrested Development, and She-Hulk. Didn't enjoy them while they lived, and I'll pick them up posthumously.
—-
So there we are! BEHOLD THE MUTTERINGS FROM THE MIND PALACE.
What are you folks reading this week? Please supplement my choices with your own! Let's chat!