Rumor: Marvel wants Angelina Jolie to direct 'Captain Marvel'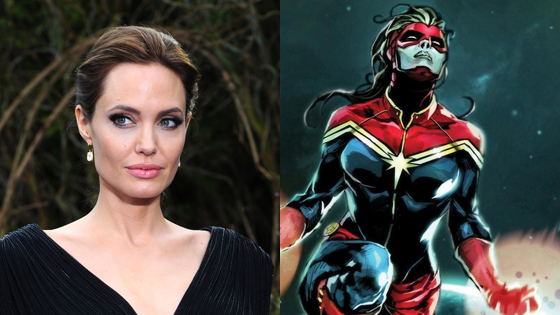 I have no idea if Angelina Jolie can direct. But Marvel wants her to. Maybe.
The February issue of OK! Magazine has a report that Angelina Jolie is being sought for the director's chair on Captain Marvel. Strictly a rumor, the magazine's source told them that Marvel and Disney were very impressed with Jolie's work on Unbroken, and that the studios are offering her $20 million to direct their first female-led superhero film.

"Having a female director is a priority for them," says the source. The source adds that Jolie feels extremely complimented by the offer considering the negative way she was discussed in emails released following the Sony hack. "She never thought she'd be in such huge demand as a director, and the be courted by Marvel after the Sony fiasco is a huge pat on the back."

Recently, Avengers director Joss Whedon mentioned he wouldn't "rule out" directing the Captain Marvel film himself, though there was no talk about him being in discussions for the job. Whoever sits behind the lens, Captain Marvel is set to bring the story of Carol Danvers to the big screen on July 6th, 2018.
Did you see Unbroken? I have not. She's uh, directed other stuff? That I have also not seen.
Thoughts?