Channing Tatum may be in Tarantino's 'The Hateful Eight'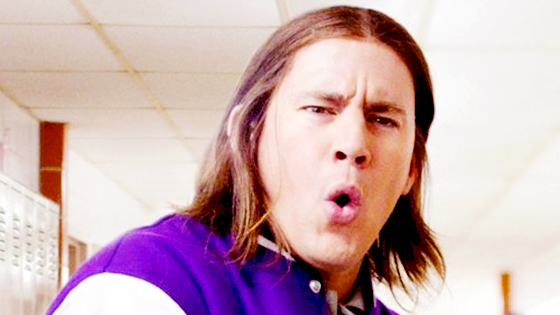 So uh. Yeah. I completely forgot to cover the news this week that Tatum-Gambit is going forward. Sorry! Apologies. Let me make it up to you with this slice of Cinematic Casting. Apparently the Gorgeous, Well-Dancing, Comedically Inclined, Superhero Portrayer is up for a role in a Tarantino flick. Dope.
Quentin Tarantino started rehearsals for his western The Hateful Eight this week, and it turns out that his cast may have a surprise or two. We've assumed that the cast of the contained western potboiler might feature primarily actors who took place in the live-read of the script a few months ago. But now Channing Tatum is looking at a role in the film.

Deadline reports, but doesn't have details on Tatum's role. The cast also features Samuel L. Jackson, Kurt Russell, Tim Roth and Michael Madsen, with Jennifer Jason Leigh recently signing on to play the key female role.

As we've written before, the film is set in Wyoming during a tough winter after the Civil War. The Hateful Eight begins in a stagecoach carrying a sheriff, two bounty hunters and the prisoner to be played by Jennifer Jason Leigh. Those four, along with the coach driver, hole up in a haberdashery to wait out a blizzard. There, with three other characters on hand, tensions quickly rise until things get well out of hand. None of the characters are heroes — there's a reason this one is called The Hateful Eight.

THR reported earlier today that great precautions are being taken with the current version of the script to prevent another leak such as the one that nearly caused the writer/director to kill off the production when the first draft hit the internet.
I'm down with this. I really enjoy Tatum in a variety of roles. Plus, if Tarantino ain't known for casting quirky actors and making it work, who is? What do you think?