'Star Trek 3' could see Shatner and Nimory reunite. C'mon man.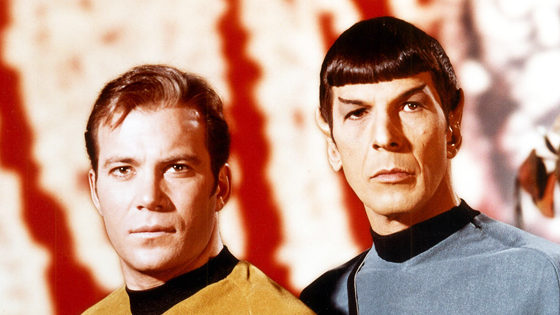 Were you fist-pumping about the possibility that the third Star Trek flick in the rebooted-whatever universe may forge its own identity? Separated from J.J. "Homage Is All I Know" Abrams, the film could stop wanking off lore and create its own mythos? Well, you might want to put the fist down.
William Shatner has been very vocal about not being invited to be part of the new Star Trek films. Originally Shatner was written into the script for JJ Abrams' Star Trek, but they decided not to film the cameo role. Well it now looks like Shatner might have his chance to return to the big screen as Captain James T Kirk in Roberto Orci's Star Trek 3. Read more about the William Shatner Star Trek 3 role, after the jump.

BadAssDigest has learned that Roberto Orci's current script for Star Trek 3 includes a scene that reteams Shatner and Leonard Nimoy onscreen as Kirk and Spock. The on screen reunion would be the first time the characters appear together since 1991′s Star Trek VI: The Undiscovered Country, so its a very big deal for Trekkies. Now of course, things could change and the role could be rewritten out of the script before the film goes before cameras in six months. And there is also the possibility that William Shatner no longer wants to be part of the film (he wasn't invited to the first two parties even though he publicly expressed interest, so he could possibly see the third film as a lesser effort, especially now that JJ Abrams is not directing).
I don't know. I don't like the idea of the new movies ruminating over bygone actors and their characters. It spends too much time acknowledging the past rather than carving own its own story. I think it would be different if the new Star Trek movies were continuations of the previous ones (though I suppose in some sense they are) instead of what was marketed as a new, fresh take on the Universe.
What do you think?