Buy These Flippin' Comics!!! (7.16.14) Dismantling the Boys Club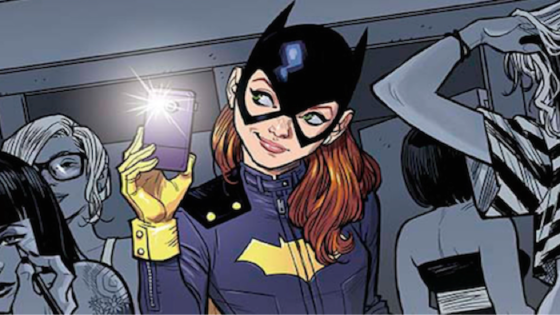 Wow, what a week for comics, huh ladies and germs?  A Batgirl redesign, an all-new Thor, both garnering worldwide press in the mainstream.  Can you feel it in the air?  The crackle, the hum, the whiff of ozone…change is coming.  There may come a day when news like a female Thor won't attract that kind of attention, or the fact that an actual DC character is smiling in a comic won't be seen as an oddity, but we're not there yet.  However, I get the sense that comics are at a turning point, that we really are at the dawn of something new, something great, and fortunately, to prove my point there are a slew of great titles dropping this week to back up the claim.  So lace up those canary-yellow Tims, grab Mjolnir (or any hammer, should Thor's weapon deem you unworthy), hit the jump, and let's go smash some glass ceilings, shall we?
A complete list of this week's comics can be found HERE.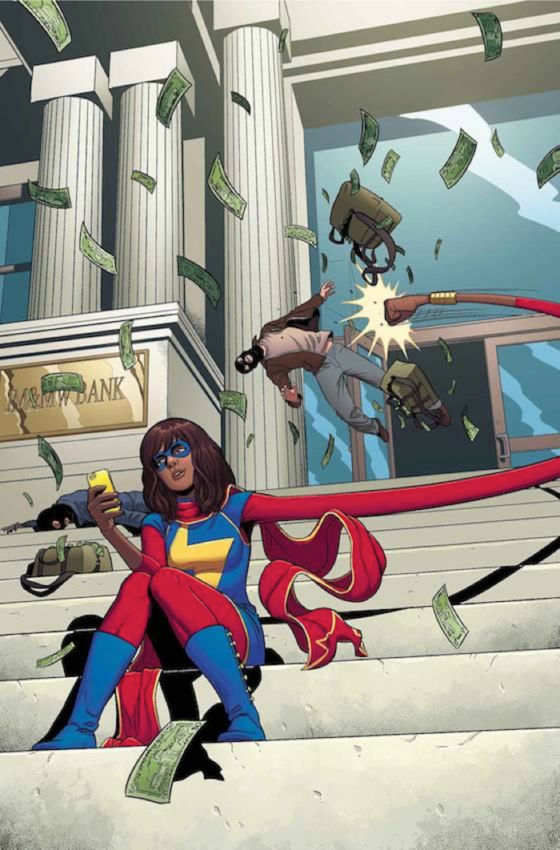 MS. MARVEL #6 – Marvel Comics
(W) G. Willow Wilson  (A) Jake Wyatt  (C/A) Jamie McKelvie
There are some books that get me excited to read and to talk about – I call them "Top of the Pile" books, comics I can't wait to read when they drop each month.  Then there are those rare books that actually make me unabashedly proud to be a comics reader, books that, without misstep or miscue, show me something I've never seen before in comics, or perhaps even in any medium.  Ms. Marvel is one of those books.  In just five issues, writer G. Willow Wilson and co. have not only given us one of the best origin stories in a good long while, they've also shown readers a culture I daresay most of us are ignorant of, that of a modern American Muslim family.  Without judgement, bias, or stereotype the creative team has given us a peek beyond the front door of a Muslim family and shown us we are very much similar, care about the same things, and have the same familial dynamics as any typical American household.  The book's portrayal of the Khans is handled with such warmth and candor that the readers can't help but already feel such a part of Kamala's world, an impressive feat to say the least (and I'm sure no small part of the counter-argument is why wouldn't the Khan's family life be similar to my own – my own cultural bias/ignorance showing it's hand).  While Kamala Khan's journey isn't that different (so far) from any other teen origin story, Wilson and team have crafted a lovely cast of supporting characters in an environment that is achingly familiar but with small-yet-noticeable cultural differences that make this book the gem that it is.  This issue sees artist Jake Wyatt filling in for Adrian Alphona, which is big shoes to fill, but Wyatt's abilities seem up to the task.  Also, Wolverine.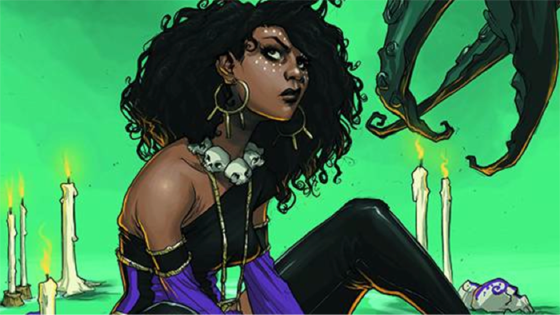 Rat Queens #7 – Image Comics
(W) Kurtis J. Wiebe            (A) Roc Upchurch
Violent, charming, sexy, cool, hilarious.  All the qualities I look for in a lady.  This book gives readers four of these awesome women to choose from in a very modern take on fantasy tropes.  Rockabilly mage, hipster dwarf, hippie hobbit, and emo cleric/priest are the main characters in a book that feels very much like Game of Thrones in that the typical fantasy genre characters here are constantly subverting your expectations.  The book is often more interested in the group dynamics and interpersonal relationships than any sort of epic quest or destined greatness.  This book tentacles the fuck out as the town of Palisade is becoming overrun by the avatars of the C'thulu-lke god N'Rygoth.  It sounds silly, and it is, but I promise you you'll have a great fucking time.  Jokes and beheadings abound.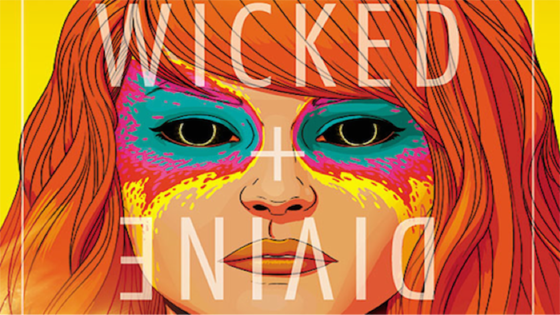 The Wicked + The Divine #2 – Image Comics
(W) Kieron Gillen     (A) Jamie McKelvie
Solid first issue that explored the rebirth of the old gods, fame, worship, and pop-fucking-music.  I loved it.  McKelvie's character design is rich and glorious, and he should be giving his colorist (Matt Wilson) a high five after every completed page.  Such a lush palette to the book, and an intriguing premise.  Satan gets framed for murder.  I mean, she probably had something to do with it, right?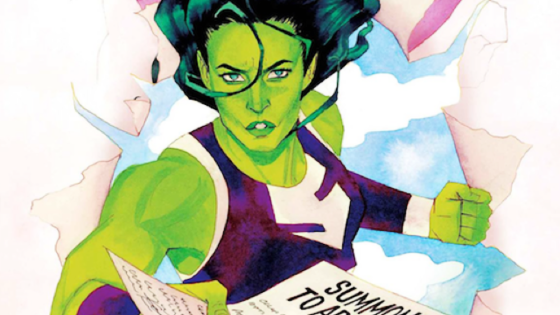 She-Hulk #6
(W) Charles Soule  (A) Ron Fucking Wimberly, you guys!
(C/A) Kevin Wada
I can't tell you how many books coming out from the House of Ideas that have latched on to these incredibly talented writers and artist, but I can tell you that She-Hulk is one of them.  A direct descendent of Fraction/Aja's Hawkeye and Waid's Daredevil, Charles Soule has given us another working-class hero book, with Jennifer Walters as a woman in the middle of a big career change from working for a high-profile law firm to starting her own, who just so happens to also be an ex-Avenger, ex-FF, giant superhero.  This book is equal parts action packed and light-hearted (again, the comparisons to Hawkeye and Daredevil can't be overstated) and the legal process plot stuff are given added clarity by Soule, who is a practicing lawyer himself.  Although brilliant cartoonist Javier Pulido is the regular series artist, this issue's fill in talent is none other than Ron Wimberly, creator of the Vertigo hit "Prince of Cats" and more recently seen on art chores in Brandon Graham's Prophet.  This book has all the ingredients of sleeper hit, but you should not be napping on this book, folks.  People are starting to make comics fun again, and we should be paying attention!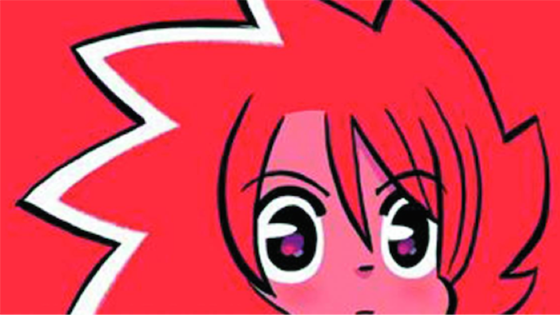 SECONDS (OGN) – Ballantine Books
(W/A) Bryan Lee O'Malley
Damn, it's felt like forever since the last Scott Pilgrim dropped, hasn't it?  O'Malley has been hard at work on this follow-up ever since, and this week we finally get to see the results of that labor.  I'm a huge fan of O'Malley's – his comics are typically playful but sincere, and his characters (even the one's with superpowers and explode into coins when defeated in combat) have real emotional depth.  This book (why Ballantine, BLO'M?  why not Oni, dude?  Keep it in the family!) follows a young restaurant owner given a second chance at love and to rewrite some of her wrongdoings.  I'm sure there will be a couple references to Canada in there, too, and probably a Legend Of Zelda shoutout.  O'Malley is an indie superstar, and his books are typically not to be missed.  You've been warned!
QUICK HITS!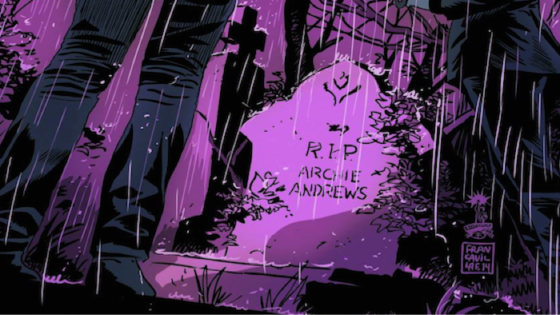 Life With Archie #36 – Archie Comics
Did you know they are killing Archie this week?  Anti-Ginger Agenda has been ramped up a couple notches folks!  Archie dies a hero, though, saving his gay friend Kevin from being shot.  I don't know if it's a hate crime, or they just happen to be on the wrong side of Riverdale.
Uncanny X-Men #23 – Marvel Comics
At long last we can put this crusty old white dude to rest.  The will was written by Bendis, so of course it will take six issues and a special to complete, and never before has a will sounded so conversational!  Anywho, I really hope this means that bald choad is dead.  Down with the white, male patriarchy!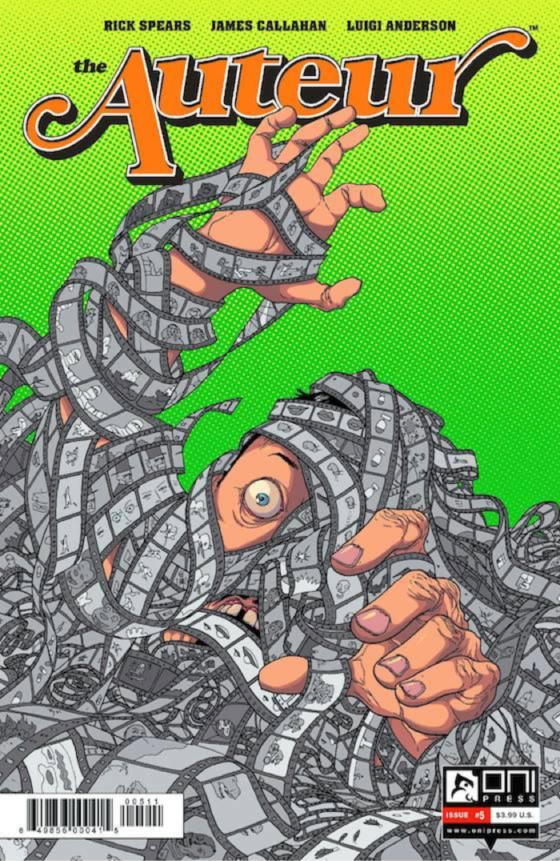 The Auteur #5 – Oni Press
(W) Rick Spears (A) James Callahan
One of fearless leader Caff Pow's current jammy-jams, I'd be remiss if I didn't mention the newest ish of this title dropping.  I promised to read it when it comes out in trade – it looks gloriously insane, and a far cry from Spears' Teenagers From Mars, of which I am a fan.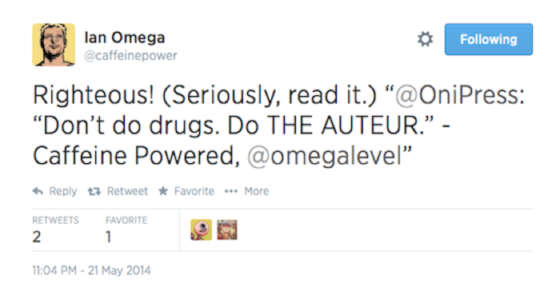 That's gonna do it for this guy, but leave your comments/pull lists/angry diatribes about making Thor a woman below, and I will surely get back to you (especially Fem-Thor haters, you can ggf)!
Until next Wednesday!