Rumor: 'ANT-MAN' Villain Revealed. (No, it's not Kevin Feige.)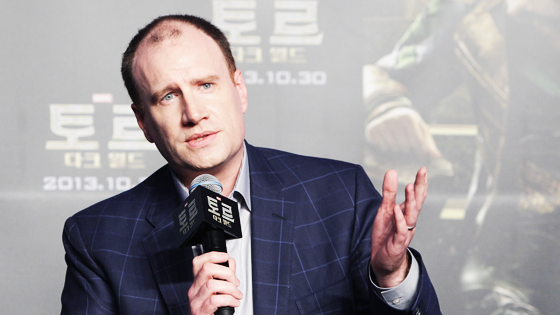 GET IT?! Cause Feige is the dude who is maybe-probably-purportedly responsible for ordering the Thousand Cuts of Death script tweak that sent Edgar Wright walking from Ant-Man. Ahhh, fuck me. Anyways. Here's the villain of the movie. Maybe.
Here's what we know about "Ant-Man" so far via the official synopsis: "Armed with the astonishing ability to shrink in scale but increase in strength, con-man Scott Lang (Paul Rudd) must embrace his inner-hero and help his mentor, Dr. Hank Pym (Michael Douglas), protect the secret behind his spectacular Ant-Man suit from a new generation of towering threats. Against seemingly insurmountable obstacles, Pym and Lang must plan and pull off a heist that will save the world."

Here's an extended spoilery-synopsis from JoBlo:

Story begins with Scott Lang (Paul Rudd) being a thief and single dad who has fallen on hard times and one day breaks into Hank Pym's apartment and steals the Ant-Man suit. The main villain's name is Darren Cross who, in the comics, runs Cross Technological Enterprises, a competitor company for Stark Industries and Oscorp. His cousin is the villain known as Crossfire. It's unknown if this role will be played by Patrick Wilson or Corey Stoll. He will have a suit with a similar feel to Ant-man's but more miltary style, yellow and black in color, and with a tendril-looking apparatus coming off it's back (like with Agent Venom). It's to note that in the comics Cross looks more like a pink Hulk, so there may well be some merging of attributes from other characters for this role or multiple villains at that (Yellowjacket, perhaps?).

If correct, this is interesting because Marvel's apparent "moral" issues with Wright's script were reportedly the fact that the Lang was a thief – Marvel chief's were rumored to feel that was too unheroic for the character and requested changes (some changes were also apparently more connections to the Marvel Cinematic Universe). One has to wonder if a) those rumors are therefore incorrect, or b) if JoBlo has some old intel. It'll be interesting to see if the final version of the film whitewashes the thief aspect of Scott Lang, but it surely does leave a strong character of redemption for the hero if they leave it in there.