Monday Morning Commute: A Most Glorious Death.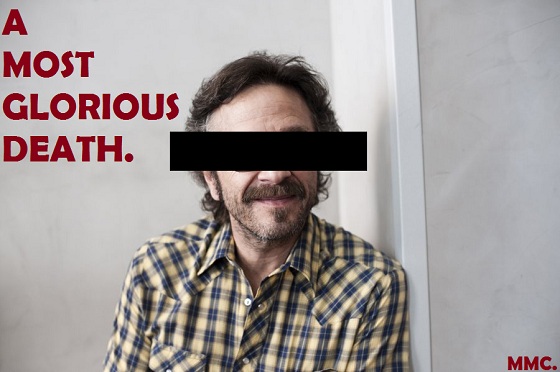 "Oh, I can't possibly imagine that you'd consort with pigs," chided Thelma the Bartender as she brought over two bottles and two shot glasses.
Over the months that saw Absalom writing at this bar, he'd grown fond of Thelma. She was busty and acerbic and two tax brackets below most of the clientele. More importantly, she was most attentive to Absalom, having memorized his preferred drink-sequence.
Serving the public ain't easy, and doin' it well is damn-near impossible.
"Thelma, goddess of libation that you are, how many times do I have to warn you against eavesdroppin'? It's not becomin' of a woman like you. If you want to experience a life-changin' conversation, you mustn't resort to NSA tactics," Absalom gave a shot-in-the-dark wink that defied his age, "just ask me out to dinner."
"Oh yes, 'dinner,' that lovely euphemism for those too cowardly to just come out ask for it. Sex. Even if it were my greatest desire to bed you – and believe me, it isn't – I simply wouldn't be able to go through with it."
"And why not?"
"Are you serious?" Following Absalom's implicit instructions, Thelma set down the two shot glasses. One for a formely-respected, now lying-in-the-gutter-but-lookin'-through-the-smog-hopin'-to-see-a-star Writer. The other for a stoned-on-booze-and-slowly-realizin'-that-my-careerist-aspirations-will-never-get-me-high-off-life Intern. Between them, she placed a bottle of bourbon.
And for Absalom, a fresh bottle of Pepsi.
"By the gods, of course I'm serious! Why wouldn't you bed me?"
"Mr. Fabliaux-"
"It's Señor Fabliaux, Thelma, and you know it!"
"Whatever! Even if I wanted to sleep with you, I wouldn't. And the reason? Your ever-deteriorating old-man body couldn't handle it! Having sex with me would literally kill you."
"Ah, but it'd be a most glorious death."
—-
Welcome to the MONDAY MORNING COMMUTE! First, I give ya'll a bit of fiction to get the mind warmed up! Then, I run through some of the ways I'll be entertaining myself over the course of the workweek. After I've tired myself out, you hit up the comments section and share your strategies for fending off the Beasts of Boredom!
Yes, it's basically the Spaceship OL way station.
Okay, let's rock!
—-
Enjoyin' the convergences of universes with WILLIAM SHAKESPEARE'S STAR WARS by Ian Doescher!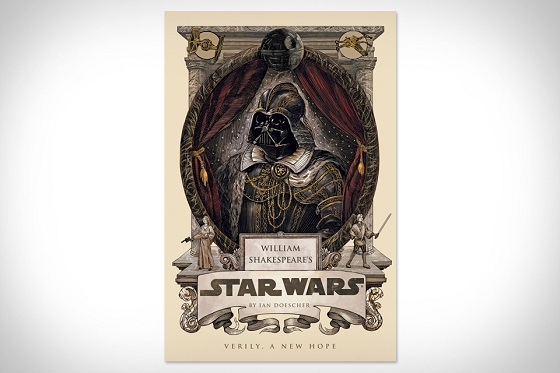 No, your eyes aren't deceiving you. What you see above these words is the cover for a Shakespearean interpretation of the greatest fantasy epic set in outer space. Governor Tarkin bein' a butthead in iambic pentameter? Stormtroopers givin' quippy asides? Luke Skywalker deliverin' effusive monologues?
Oh yeah, it's all in there.
Check out an excerpt HERE!
—-
Searchin' for a copy of THE HALLOWEEN TREE CARTOON. Any help out there?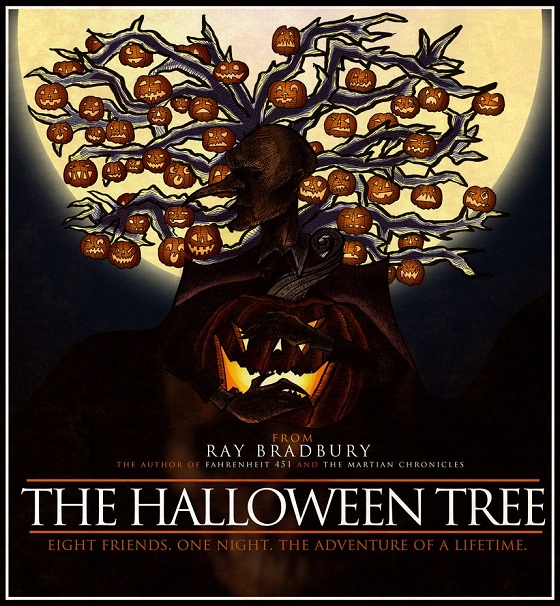 So this past weekend I finally read Ray Bradbury's THE HALLOWEEN TREE. Despite being a lover of all things Bradbury, I hadn't gotten to this book because it's a children's book and I figured that I'd be better served reading other stuff. Holy Toledo, egg on my face.
This book is goddamn amazing. Legitimately. In language simple enough for kids, Bradbury presents ideas that're far-reaching enough to capture even the most sophisticated of imaginations. The story of eight small-town Americana kids celebrating Halloween turns into a rumination on the wonder of the holiday, its origins, its implications, and humanity's place in the cycle of life and death.
Of course, after I finished the book I did some cursory research. What'd I learn? Oh, just that there's a cartoon adaptation narrated by Bradbury and starring Leonard Nimoy. Unfortunately, it appears as though there're no full copies on YouTube.
So…anyone want to loan me their VHS copy of THE HALLOWEEN TREE?
—-
Appreciatin' SANTA SANGRE and rememberin' Jodorowsky's wonderfully insane influence.


I watched SANTA SANGRE the other day, and I think it might be my favorite Jodorowsky flick.
Why's that? Well, it's demented and trippy and thought-provokin' and filled with all sorts of uncomfortable material. Which, y'know, is nothing out of the norm for his movies. But I think that SANTA SANGRE has the best story of the Jodorowsky works I've seen. On the surface, it's a horror movie about a kid who witnesses tremendous violence, is tossed into an insane asylum, and is later manipulated into serving as a tool of horrific violence. A bit deeper, it's an exploration of cultural imperialism and alienation and Oedipal issues and general debauchery.
Jokes aside, watching this movie gave me a deeper appreciation for ONLY GOD FORGIVES.
—-
So that's my week — Shakespeare and space-fantasies and Bradbury and Jodorowsky.
What's your week lookin' like?