Opinions Vary: Road to the Point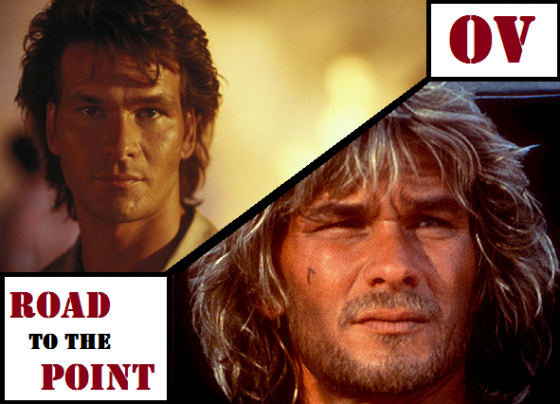 Hi kids.  Pull up a chair and grab a juice box, its story time.  I'll be honest; I don't really have much of an opinion for this week's Opinions Vary article.  What I do have is my synopsis for a movie I wrote called Road to the Point.  Road to the Point is an ambitious tale that attempts to chronicle the obvious, but frustratingly untold, story that takes place between the movies Roadhouse and Point Break.   So hit the jump and get a towel ready, I'm about to blow your mind.
Road to the Point starts out with Dalton doing what Dalton does.  He's kicking ass, but doing it with the polite coolness of a tidal wave hosting mid-morning brunch.  As he's cooling out in his new place, the Quintuple Duce, he notices a high profile client walk in the door.  Dalton totally knows his shit and recognizes former US president Johnston V. Daniels right away.  Dalton doesn't approach the man as Dalton isn't a needy bitch.
Daniels is flanked by two secret service agents as he finds a quiet seat in the corner.  A third agent walks around to check the place out, and eventually heads to the bathroom.  When the agent exits the bathroom he heads straight for the former president.  Since Dalton has reflexes so fast that cheetahs use his picture on their currency, and the eyes of an eagle on adderoll, he sees that the man who exited the bathroom dressed as a secret service agent is actually an imposter.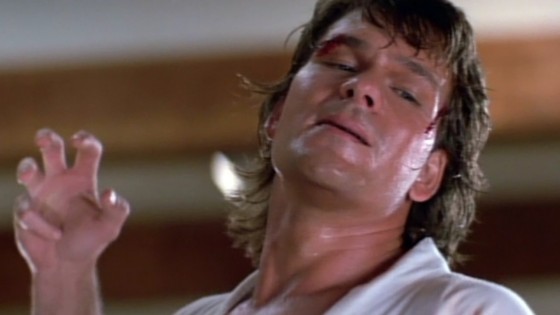 Dalton saunters over towards the man with the poise and grace of a swan who took lessons from Jackie O.  As the fake agent pulls his gun, Dalton springs into action.  He takes down the man post haste.  The other two agents, unsure of what to do, pull their own guns and point them at Dalton.  Since Dalton could sweet talk a 70 year old church going granny into rocking a strap-on and pegging an 18 year old high schooler, he knew he had the situation under control.   When the two agents get a look at the man on the ground, they see its not that same man that they came in the building with.  One of them runs to check the bathroom and finds their friend's corpse.
Daniels starts to freak the fuck out, cause he totally knows who's behind this attack.  He explains to Dalton that the head of the UN, General Klaus Dhoomhammer, that in addition to having an evil fucking name, is also dabbling in human tracking.  Daniels found out about it, and was about to go public.  Since Daniels now knows that the general is aware of his location and plans, he needs to hide.  He begs Dalton to protect him.  Dalton tells him that he'll escort him off the premises and to his car … no further.  Dalton's got a family to protect.  Daniels drives away, giving Dalton a card with his number on it in case he wants to change his mind.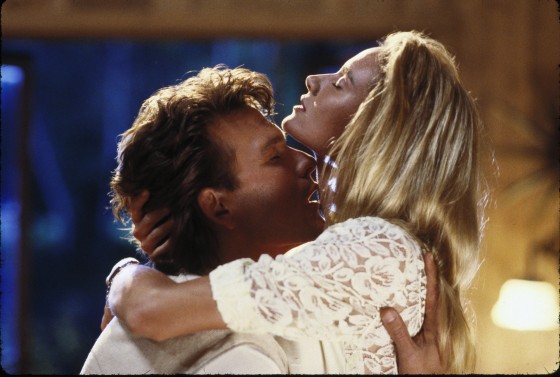 When Dalton gets home he's greeted by his wife, the chick from the first movie, who is pregnant with his septuplets.  After a passionate 2 hour love scene, they sit down to dinner.  The front door bursts open and there we see General Dhoomhammer in the flesh.  He's 7 feet tall, dressed head to toe in a dark blue military outfit and has a robotic left arm.  He's flanked by a battalion of troops with automatic weapons pointed at Dalton and his lady.  Dalton's good, but he's not getting out of this one easily.  The general is demanding to know where the former president is.  Dalton hands him the card and tells the general that that's his number.  The general thanks Dalton, and to make sure things go smoothly he takes Dalton's lady with him.  He leaves 10 troops behind just so there is no funny business.
Dalton waits for the rest of the troops to leave and then takes out all 10 of the remaining guards in spectacular fashion.  Really, he just beats the ever loving shit out of them.  Dalton knows that the general will be going after Daniels, so he calls him up and lets him know the score (Dalton totally memorized the number because he's just that good).  Daniels lets Dalton know where he is and the two meet up.  The hairs on Dalton's neck start to go more erect then a group of 15 year old boys backstage at a Victoria's Secret show.  There's something he's missing, but he just can't see it yet.  He knows there's a trap somewhere, but the only way to get his sweet, sweet lady back is to spring the trap and then bring a metric fuckton of hurt down on the men that took her.

Dalton reaches Daniel's location, but when he gets there, the general is waiting for him.  Ohhh double cross!  You see, Daniels betrayed Dalton.  Daniels then explains to Dalton that the whole thing was a ruse to get back at Dalton because Dalton killed Daniel's son a few years back (Jimmy in Roadhouse).  Daniels then reveals his plans to run for President again, as he only served one term and he wants to be just like his hero, Grover Cleveland.  Dhoomhammer then brings out Dalton's lady and totally shoots the shit out of her.  Like 12 or 15 times.  She's dead as fuck.  Dalton hulks out and starts wrecking dudes.  After a few minutes of pure, unadulterated asskickings, Dalton is cracked on the back of the head.  As he's passing out Daniels tells Dhoomhammer to take him somewhere and make him suffer for years.  Fade to black.
When Dalton wakes up, he finds that he's tied to a chair in a cargo plane.  He's surrounded by guys with guns trained on him.  Dhoomhammer is there too taunting the shit out of him.  Dalton breaks his bonds by using the ancient art of badassery.  He lays the smack down on all the goons around him and then makes a b-line for Dhoomhammer.  Dhoomhammer tosses on the only parachute, rolls a grenade into the cockpit, and then jumps out.  Dalton only has a moment to collect himself before the cockpit of the plane explodes throwing him out into a freefall.  As he falls, he sees Dhoomhammer in the distance.  Contorting his impressive frame into position to increase his terminal velocity, Dalton heads for Dhoomhammer.  He snatches a sharp, knife sized, piece of falling shrapnel on his way.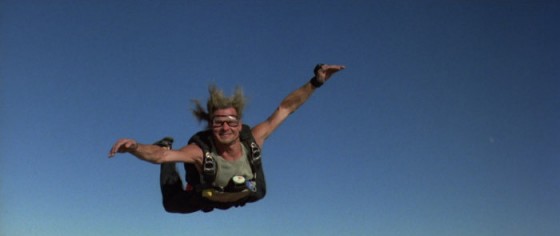 Dalton crashes into Dhoomhammer in mid freefall (setting up a totally awesome foreshadowing in Point Break where Johnny Utah does the same).  Dalton stabs Dhoomhammer with the shrapnel and begins to pummel him.  As they are freefall-fighting, they pass a helicopter.  Dalton, in total badass form, pulls Dhoomhammer's ripcord and lets go of the man.  Dhoomhammer shoot up due to the air rushing into the chute and flies into the helicopter rotors.  Dhoomhammer's headless corpse falls back down and Dalton catches it.  He positions himself on top the corpse and uses it to break the surface tension of the swimming pool he is aiming to land in.
Dalton then sets out to catch up with Daniels.  Dalton finds his address and makes his way there.  Dalton finds that Daniels is away, but his wife is there.  Dalton lets her know what her husband is up to.  Initially she doesn't believe Dalton, but one look into his infinity pools for eyes, and she's totally hooked.  She calls Daniels and hands the phone to Dalton.  Dalton put him on speaker and tells Daniels that if he doesn't show up to the house in an hour, that he's totally going to kill his wife.  Daniels calls his bluff and says something to the effect of "kill the bitch, I've got work to do", and then hangs up.  Mrs. Daniels tells Dalton that her husband is meeting with the president today.  Dalton thinks treachery is afoot.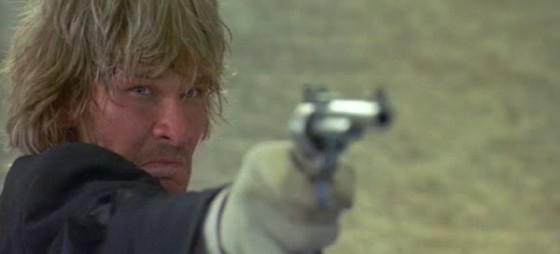 Dalton heads over to the White House and attempts to crash the meeting.  He hides with a tour group and slips away when no one is looking.  He climbs up a balcony and silently knocks out a secret service agent.  He locates the room where Daniels and the president are meeting.  Dalton bursts in and starts to pummel Daniels.  The President yells out for help.  Secret service agents flood the room, and Dalton has to dance the dance of kickassery to keep from getting shot.  Once all the agents are down, Dalton starts to explain that Daniels is there to assassinate the president.  As he's explaining this, Daniels grabs a gun from a fallen agent.  He points it at the president and pulls the trigger.  Dalton springs into action as if he was shot from the devil's own cannon, knocks the president aside and takes a shot to the shoulder.  As Dalton falls he grabs a letter opener in the shape of the American Flag and hurls it at Daniels.  Its strikes him in the jugular and kills him.
In the next few days they find out that Daniels was being bankrolled by a multinational corporation hell-bent on sowing discord in America, and then profiting from the chaos.  The president traces the heads of the corporation to names that are linked to the board of directors for several banks throughout the country.   Dalton volunteers to find out more about them, and disrupt their plans of killing freedom.  The president asks where Dalton will start.  Dalton replies that he's going to go to California.  He's going off the grid, so if the president ever needs him, tell him to head to the beaches and look for a man named Bodhi.
Six months after a man named Bodhi appears in southern California, surfing the waves and ripping off terrorist banks, the president and all of the men who knew about Dalton's true identity are killed.  Now, without back-up, and being pursued by the authorities, the man named Bodhi continues his mission for justice.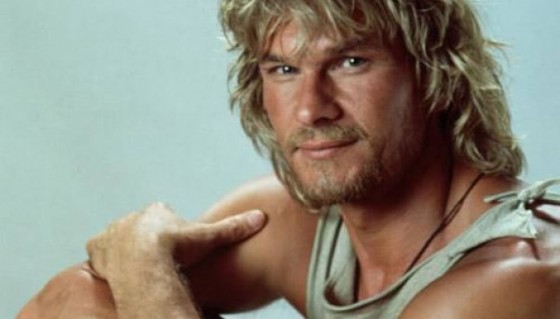 … end of Road to the Point.
—–
Now we move on to this week's exercise.  Link two supposedly unrelated movies together with an untold second movie to make a trilogy of awesomeness.