Next 'STAR TREK' MOVIE adds two new writers.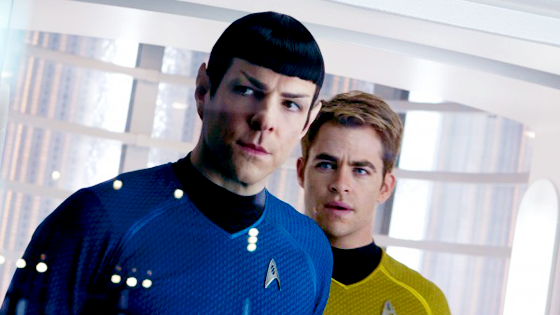 To which I say, obviously, good! You may or may not know my opinion on Star Trek Into Bland But Pretty Action Movie Territory (but you do now!). So all I'm going to say is that I love the idea of some new blood working on the flicks.
Though J.J. Abrams won't be back to direct the next installment of the Star Trek reboot, that ship is still moving forward at about warp 2. Two writers have just been added to the team.

J.D. Payne and Patrick McKay will be joining previous Trek scribe Roberto Orci. So far Alex Kurtzman and Damon Lindelof have not been confirmed as working on the project. Though this new writing duo only has the in development, Abrams-directed, graphic novel adaptation,Boilerplate, under their belt so far. I wouldn't put it past them to put Kurtzman or Lindelof on re-writes.

If they decide to follow suit with the original Star Trek films, this Star Trek 3 could see the crew searching for a previously-thought dead crew member. Actually, that won't happen because no one can die because magic blood now exists in the universe. Seriously though, I would not put it past them to delve into Genesis or Klingon rivalries.

At this point, we still don't know who Paramount will hire to direct the as-yet-unnamed film but back in November it was said Attack the Block's Joe Cornish was at the top of the list.
Cool news. Combine this with the potential of Joe Cornish directing, and I'm officially looking forward to what Star Trek 3boot
brings home to roost.