'SAGA' takes home 2013 HUGO AWARD. This is dope.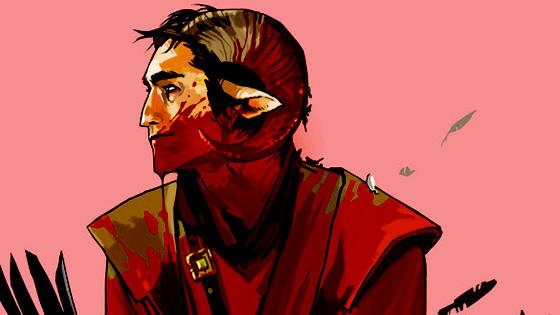 Hell to the Robot Fucking Yes. This past weekend Saga Vol. 1 won the Hugo award for Best Graphic Story. Vaughan and Staples have continually delivered my favorite title of the month every time it drops, and it is delicious to see them getting rewarded for their excellence. I'm not saying it is the ideal way for them to get rewarded, though. In my mind, they come over to my house. I'm wearing nothing but a bikini made out of Jell-O. I serve them dinner (pasta and meat balls, obviously) while complimenting them on their wonderful title. After dinner we play Jenga, pausing briefly for neck messages that I dole out with extreme aplomb. They leave, really knowing that they're appreciated.
But this is nice too.
Saga, Vol. 1, by Brian K. Vaughan and Fiona Staples, won the 2013 Hugo Award for Best Graphic Story, presented over the weekend at LoneStarCon 3 in San Antonio, Texas. Paul Cornell served as the toastmaster.

Presented annually since 1955 by the World Science Fiction Society, the prestigious Hugo Awards recognize the best in science fiction and fantasy.

Published by Image Comics, the bestselling Saga follows two soldiers from opposite sides of an intergalactic war who fall in love and risk everything for their newborn daughter, and in the process become fugitives on the run from their own governments. The title was one of the big winners at this year's Eisner Awards, earning nods for Best Continuing Series, Best New Series, and Best Writer.

The other nominees in the Best Graphic Story category were: Grandville Bête Noire, by Bryan Talbot (Dark Horse, Jonathan Cape); Locke & Key, Vol. 5: Clockworks, by Joe Hill and Gabriel Rodriguez (IDW Publishing); Schlock Mercenary: Random Access Memorabilia, by Howard Tayler and Travis Walton (Hypernode Media); and Saucer Country, Vo. 1: Run, by Paul Cornell, Ryan Kelly, Jimmy Broxton and Goran Sudžuka (Vertigo).

[Robot 6]