'LOOPER' DIRECTOR Rian Johnson working on CYBERPUNK script. GOD DAMN YES.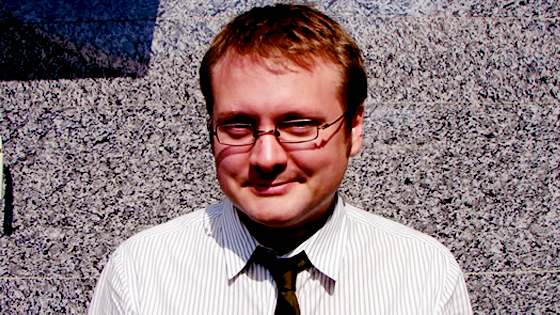 Oh sweet baby Jesus, Rian Johnson is working on a cyberpunk script. This douchebag (hi!) and cyberpunk go together like latex bondage porn and autoerotic asphyxiation. I am literally hardened at every point on my body where blood can flow to just thinking about this. Yes. Yes, yes, yes.
With just three films, Johnson has established himself as a completely unique voice in American cinema, and as relatively young and talented as he is, Johnson seems like a ripe candidate to take on high-concept studio tentpole work like Marvel movies, "Mission Impossible" films or any studio project that generally looks for bright, talented filmmakers to take their work to the next level while keeping budgets reasonable. But Johnson has resisted all overtures, and has said that he's going to continue making original films for as long as he can.

"Adaptation is not something that's ever really appealed," Johnson told us in an interview last year. "If I read a great book or comic book or something, the last thing in my head is 'Wow, I want to make that into a movie.' Obviously, some of the greatest films ever made have been adaptations, I'm just talking about my personal opinion. So there's no dream project. My dream is to come up with another movie, and be able to make it. I'm realizing that that's the only way I can work."

So with that in mind, what's next for Johnson? Well, another original project of course, but he might be repeating himself in the genre…somewhat. The director spoke to /Film over the weekend and revealed that he is currently writing his next film. It's evidently still within the sci-fi genre, but more Cyberpunk and different from "Looper." No details or quotes yet, but we imagine this is all Johnson would reveal anyhow. "Cyberpunk" does sound like a bit of an outdated term, but the works of William Gibson still resonate, and we'd definitely give Johnson the benefit of the doubt regardless. And hell, "Blade Runner" is often thought of as the quintessential example of that style, and last we checked that movie is still one of the all-time greats. Mr. Johnson, you have our full attention.