'CLERKS 3' is going to be an interactive book before its a movie. Or something.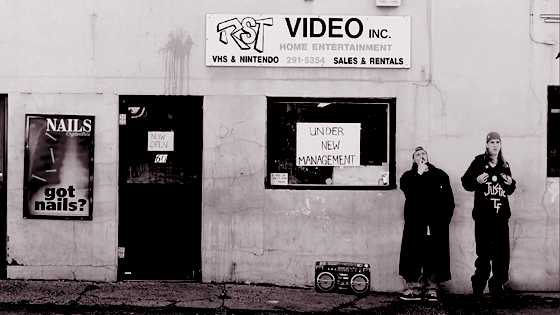 Kevin Smith just sort of spouts-off, and the world listens. At this point, I don't even feel like holding my former adolescent idol responsible. If Smith continually ruminates on ideas out loud, eventually the responsibility of realizing what he is doing should be thrust upon us. So is any of this Clerks 3-as-book nonsense real? Who knows. Just our boy K-Smitty, flapping his gums as usual. Spitballin'.
Decisiveness, it seems, hasn't been high on Kevin Smith's New Year agenda. First, the third installment of his cult franchise, "Clerks," was going to be a feature film, then a 6-monther on Broadway, then – nope, actually – an online serial (all of this following his announced retirement from directing). Now, just as fans thought he couldn't toy with them any longer, Smith has undertaken one (last?) change of tack: "Clerks" – the book.
Smith isn't one to be bogged down with industry or even societal conventions – "There is something to be said for productive stoner activities," he remarked during an appearance on the online chat show, "What's Trending?" on Friday – but his methods have an undeniable knack for getting the job done. His Sundance and Cannes winner, "Clerks," was made for $27,000 and filmed in the same convenience store Smith himself had tended, and subsequent View Askew pictures including "Chasing Amy" and "Dogma" have delighted critics and potheads alike.

Perhaps it is appropriate, then, that the proposed novelization of "Clerks" will be pretty atypical. Responding to fan queries on the long-awaited project, he revealed plans for an episodic book to be released chapter by chapter, the direction of which would be shaped as it went along by what Smith refers to as "audience interactivity." He sees the format as a logical function of his previous work: "I'm a new media artist, and a new media artist involves the audience… that's something I've been doing for nearly 20 years at this point anyway."

While he acknowledged the financial incentives to making a third feature film (and completing what would surely have been the epic-stoner-trilogy successor to 'Harold and Kumar'), a book would allow him to "go inside the characters' heads, tell Year One origin stories where the first chapter is Dante and Randall meeting in kindergarten, all the stuff I can't do in a movie." Smith's philosophy is fittingly chilled: 'Build what you love – dream, do it, then figure out how to monetize it." Watch his chat about his plans below, starting around the 13 minute mark.