J.J. ABRAMS and VALVE teaming up for 'PORTAL' and 'HALF-LIFE' movies. Plus, a game!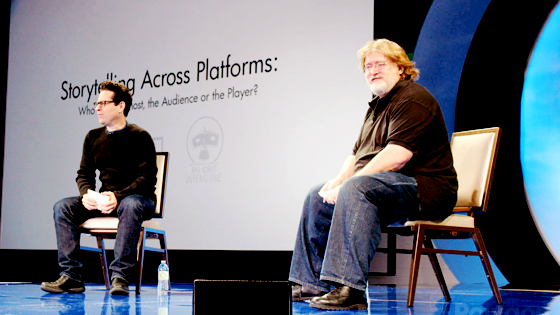 J.J. Abrams continue to appropriate geek franchises into his corpus, channeling the energy absorbed into some sort of world-breaking incantation.
Star Trek and Star Wars: Episode VII director J.J. Abrams tells Polygon that plans for movies based on Valve's Portal and Half-Life games are in the early stages, but that he's personally interested in bringing those universes to film.

"It's as real as anything in Hollywood ever gets," Abrams said of thejust-announced plans to develop movies based on Portal and Half-Life. "Which is that we are really talking to Valve, we are going to be bringing on a writer, we have a lot of very interesting ideas."

"And both a Portal and Half-Life movie are things I want to see," Abrams said. "We're also aware of the cautionary tales of movies that became games and vice versa. Our goal here to is to treat the world Valve has created in both these properties like anyone would a book or some great story that comes from a pitch or original script — just to treat it with the respect they treat their games and their players with."

Valve co-founder and president Gabe Newell has expressed apprehension in the past about making movies based on Half-Life, saying that the developer would prefer to either make it themselves or just not make it at all. Newell told PC Gamer in 2010 that after the release of Half-Life, movie directors and writers pitched the developer on their own take.

"And their stories were just so bad," Newell said. "I mean, brutally, the worst. Not understanding what made the game a good game, or what made the property an interesting thing for people to be a fan of."

Newell said at DICE this morning that after a series of conversations with Abrams about storytelling, "We reached the point that we decided to do more than talk."

Abrams says he too is interested in collaborating with Valve on a video game idea of his own, one that explores "the limits of gaming in a perfect way," which we'll have details on later today.