Rumor: Ms. Marvel in 'AVENGERS 2', with Emily Blunt or Ruth Wilson up for role. Wut? Yes!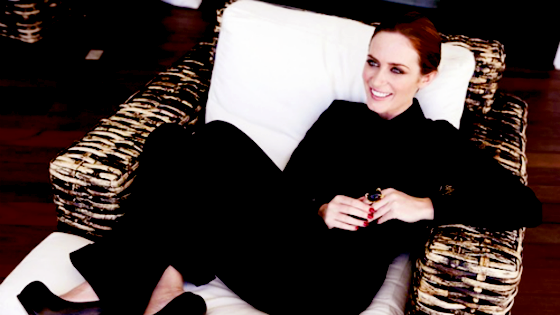 Ms. Marvel in Avengers 2? Frak yeah. Carol Danvers is a goddamn fantastic character. As a hell of a strong female lead, she is just sort of lass that Whedon would gravitate towards. Here is hoping there is something to this rumor. Especially if Emily Blunt is in consideration. Coming out of Looper, make mine Blunt. Or something. Should probably just let that saying die.
According to a new report, Emily Blunt and Ruth Wilson are up for the role of Ms. Marvel, otherwise known as Carol Danvers. It's worth noting that the source is less than 100% reliable, so take it with a grain of salt. On the other hand, considering the caliber of talent the franchise has been attracting, these names don't entirely seem out of the realm of possibility.

The news comes from UK tabloid The Daily Mail (via Vulture). The publication has a spotty track record when it comes to casting scoops, so it's probably best at this point to treat their story as rumor for now.

For those who need a refresher on Marvel's comic book universe, current Avenger Carol Danvers made her debut in 1968 as a human character before an incident altered her genetic structure to a combination of human and Kree genes. Her special abilities include flight, superhuman strength, and energy absorption and projection. (Read more about the character here.)

Blunt is one of those in-demand actresses whose name seems to come up any time a particularly juicy project is casting, so if Marvel really is looking for a Ms. Marvel it's no surprise they'd look to her. This isn't her first brush with Marvel Studios, either. Blunt was once attached to play Black Widow in Iron Man 2, before Scarlett Johansson got cast, and she passed on the Peggy Carter part in Captain America 2 that eventually went to fellow Brit Hayley Atwell.

WIlson isn't quite as well known as her competition, but she's definitely on the rise. The actresses has drawn high praise for her work on the U.K. series Luther (on which she stars with Thor co-star Idris Elba), and she has a handful of splashy features coming up including Joe Wright's Anna Karenina, Gore Verbinski's The Lone Ranger, and Disney's Saving Mr. Banks.