'PROMETHEUS 2' is going to happen. Oh please no faith-heavy pedantry.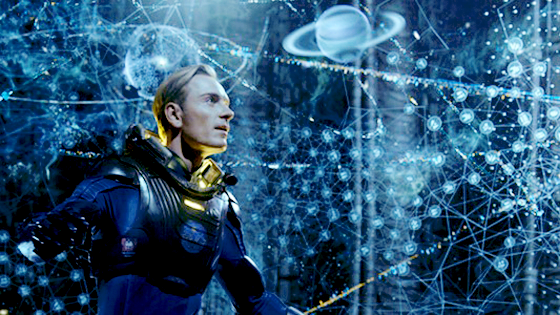 Well, fuck. Prometheus 2 is going to enter into this world, aiming straight for our cerebral cortex with vomit-inducing themes of faith and nonsense. Here is hoping Ridley Scott can find himself a human being aside from Damon Lindelof to write the script. Here is hoping Lindelof's busy schedule doesn't let him do it. It'd be amazing to see what could happen if the writer wasn't patting himself on the back with one hand, while mashing out high-fives to Christianity with the other ad nauseam.
Prometheus is moving forward! We're not surprised, since the original made money. But holy space Jesus if the sequel is as needlessly complicated and vapid as the first, we're going to shave Michael Fassbender, Engineer-style.

The Hollywood Reporter has confirmed the sequel:

Fox confirms to THR that Scott and the studio actively are pushing ahead with a follow-up (stars Michael Fassbender and Noomi Rapace are signed) and are talking to new writers because Prometheus co-scribe Damon Lindelof might not be available. "Ridley is incredibly excited about the movie, but we have to get it right. We can't rush it," says Fox president of production Emma Watts, who also has overseen the successful reboots of the X-Men and Planet of the Apes franchises. A Prometheus sequel would be released in 2014 or 2015.

Now all it needs is a title and a plot.
Oh well.