LADY GAGA is in 'MACHETE KILLS', rounding out craziest cast ever.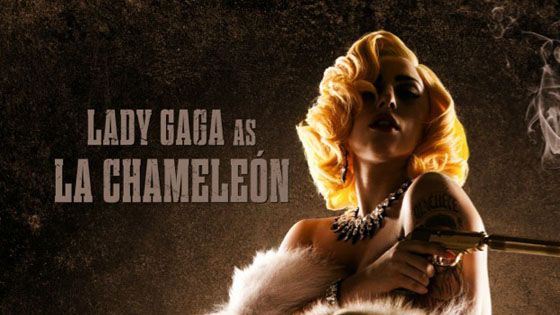 Lady Gaga. Mel Gibson. Charlie Sheen. Machete Kills. This cast is going to be out of its goddamn mind.
If you thought the zany casting of Robert Rodriguez's "Machete Kills" started and ended with Charlie Sheen and Mel Gibson, guess again.

Robert Rodriguez hit Twitter today to announce: "I just finished working with @LadyGaga on @MacheteKills , she kicked SO MUCH ASS! Holy Smokes. Blown away!" And along with it, he added a character poster that reveals she, rather appropriately, plays a character named La Chameleon. No word yet if she brought her own wardrobe to the shoot. The "Machete" franchise has already made a name for itself for being a bit more adventurous with its participants, but even this is pretty surprising, though we'd guess Stefani Germanotta's appearance will be a boosted up cameo, but not much more.