Paolo Rivera Leaving 'DAREDEVIL' To Work On Creator-Owned Sci-Fi Comic And More. This Rules.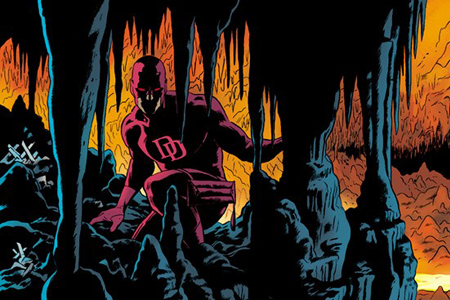 Paolo Rivera is a Hell of an artist, and one who I don't enjoy as much as I should because I haven't gotten too into Daredevil. Today Rivera announced that he was dropping out of that title to focus on creator-owned projects, one of which is a science-fiction jam. I can't tell you how excited this makes me.
At his blog, Rivera explains his reasoning behind walking away from his exclusive contract:

So why am I leaving? The short answer: ownership. With the exception of just a few published pieces of art (which belong to other companies), Marvel owns the copyrights to my entire professional portfolio. And why shouldn't they? I was, of course, compensated fairly for it, and for that I'm grateful – but the sum total of that work is not enough to support me in the distant future. My page rate is essentially the same as when I started at 21, so I've decided to invest in myself. What I create in the next decade needs to pay dividends when my vision gets blurry and my hands start to shake (and who knows what else). Now is the time to make that choice, while I'm still young, possess "great power," but have few responsibilities.

And yet, I'm not done with Marvel by any means. They've been nothing but supportive throughout my decision, as has been the case throughout my career. I will continue to do covers for them and occasional projects as I see fit, just not exclusively.

So what am I going to do with my time? In the short term, I plan on clearing out my commissions list, which dates back to 2008. That will keep me busy while I plan more daunting endeavors. I'm not accepting new names at the moment, but I will in due time.

In the long term, I may scour my old emails. I've had to turn down some amazing opportunities in the past decade, so I may finally accept some non-Marvel work – it all depends on the creative team and the property.

Regardless of what new opportunities come my way, my main focus will be an ambitious, creator-owned project: an original story, sci-fi in nature, with primal themes and a compact cast of characters. It's far too early to give any details, but it's something that's been trickling into my mind (mostly in the shower) for the last 5 years.
Fantastic. The idea of him riffing out on a creator-owned sci-fi comic is beyond awesome in my eyes. Wish the dude the best.