Ben Templesmith Draws On Breasts To Promote Cancer Awareness. Sounds Good.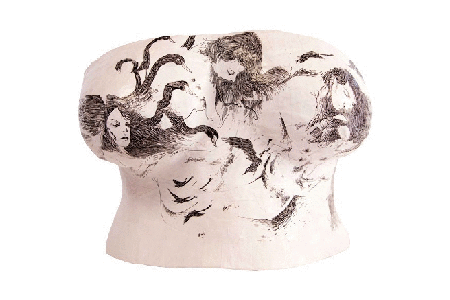 Ben Templesmith and over 100 more artists have teamed up to decorate breast casts  for an exhibit that's aiming to promote breast cancer awareness. Now, this is me being a male pig, but this sure beats the hell out of wearing pink.
Signing and drawing on body parts isn't unheard of at comic conventions (breasts being one of the most popular parts), but Ben Templesmith has joined artists from many different fields to draw, paint and sculpt on breasts (or casts of them, anyway) for an excellent cause.

To launch its branch in Japan, the Keep a Breast Foundation breast cancer awareness group is hosting The Tokyo Love Show, an exhibit that brings together the largest collection so far of the foundation's breast casts. Templesmith and more than 100 other artists from around the world have decorated the casts, with "love" as a unifying theme. The castees are also an international group, illustrating the need for global awareness about breast cancer.

Templesmith's project is above (cast from a woman named Starina Johnson) and is priced at $1,100. You can see the entire gallery at the Tokyo Love Show page.
Cool stuff.