'DEAD SPACE 3' Has Had Its Soul F**king Ripped Out By EA And Visceral Games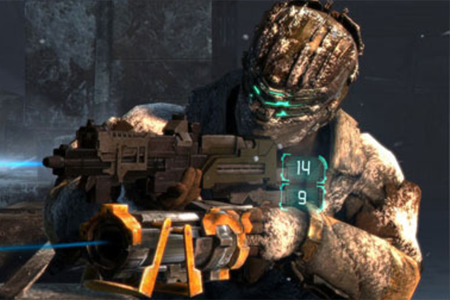 Electronic Arts and Visceral Games confirmed this week at E3 the inevitable. After weeks of speculation and rolling confirmation they acknowledged what we had already seen, the bloated cyst hanging off of the tits of the previously remarkable Dead Space series. The cyst is a predominant one, flaring up in magnificent lumps across many a franchise I have come to behold. You can call it multiplayer. It is blight across this generation, as company after company double-fist outstanding single-player games. Red faced and drunk for profits, their ten knuckles dig deep into the game's previously welcoming sphincter.
Butt play is fun, fingering around with little changes. Exploding a game's design in the search of the almighty dollar with hungry hands is not.
Dead Space 3 is now officially Gears of Bros in Space, adding an unnecessary element to a stellar formula. This much we all know. Silently I've seethed at the addition, completely fucking aggravated at its existence. However, allow me to make a distinction. I'm not stating that Dead Space 3 is going to suck. It may very well be an enjoyable video game. There could be plenty of fun to be had as Jimmy Dong Tug and you run through endless baddies chatting about how bad you have to shit or what Jennifer Lawrence's ass would taste like over Xbox Live.
This is not about the quality of the game.
This is about how fucking stupid the idea happens to be.
You see, this subtraction by addition turns Dead Space 3 into yet another derivation of the Two Bros Rock The Fuck Out formula that has spread across the generation. Oh hey! Golly! Two people are fighting in tandem across a variety of scenarios? Okay! God knows we don't have enough of those fucking titles.
There is no need to turn every game into Gears of fucking War. There simply isn't. How many more people is this absurd addition going to attract? I don't imagine many. How many fucking Dead Space fans is this going to cheese off? People play Dead Space because it is Dead Space, not because they've silently been anticipating it turning into another sausage fest. I'll just play the first two games and hope that eventually they turn it into a boring clone of some other franchise!
Wee!
That's really what it comes down to, folks. The dickheads in charge not respecting the soul of Dead Space. Loaded words, man! I don't care. As I said, I'm cheesed. It has nothing to do with whether or not the title is enjoyable, it has to do with taking out a game's heart and attempting to replace it with a printing press for greenbacks.
Dead Space was excellent because it was a haunting trip through a world of perversions. Crank the lights down low, turn up the bass, and prepare to piss your pants. Do you know what exacerbated the tension? Going in alone. Isaac Clarke (and subsequently your own) journey was most terrifying because it was a isolated descent into the grips of madness. As you scurried down the dimly lit hallways, there was no one to rub your back. No friend to giggle with over a microphone. Furthermore, not even a fucking non-playable character to relieve some of the stress. Even if you play Dead Space 3 with the computer controlling your asshole ally, the formula is still immeasurably fucked.
That's the fucking tragedy.
The very fucking thing that made Dead Space so excellent has been airlocked. Sent out into space.
There are countless team-up dong-tugging sausage fest bullet fests for me to play. There aren't many science-fiction space horrors for me to partake in. Dead Space brought that swagger into this generation, and it won't survive this console cycle without having a money-powered stake being stabbed through its perfectly wonderful heart. All to appeal to a wider audience, who frankly won't give a fuck. They have Gears of War: Hope You're Not Sick of Dumb Fucking Prequels to quench that thirst. Or they could snag a copy of Resident Evil 6, a franchise whose own existence has been warped by the almighty co-op, or countless other derivations.
Now without prompting, and at the count of the game's very appeal, they'll have Dead Space 3.
It fucking sucks.
—-
[Edit: Since I originally published this, more than one person has pointed out that the co-op is totally optional. While I respect this difference, the alteration of the landscapes for a more wide feel, the varying scenes depending on whether or not you are or are not playing with someone that splinters the storyline, and other features still has me uncomfortable with the game's design evolution. Feel free to call me a douche, I have never thought highly of myself anyways.]