Dude Cosplays As Hulk, Promptly Can't Get Rid Of Green Skin. Gamma Rays Are A Bitch.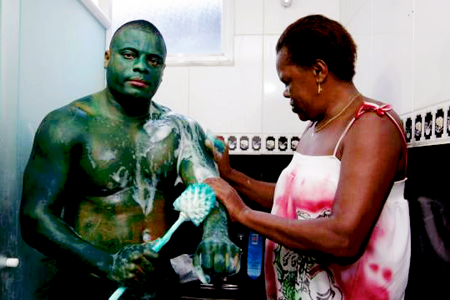 Paulo Henrique dos Santo decided to cosplay as the Hulk. What he didn't consider is that when you wrangle with the Hulking Green Bastard, there are repercussions. Now the dude is straight chilling with green skin, incapable of taming the beast.
According to  Extra  (Google translation), Paulo Henrique dos Santos dressed up as the Green Goliath for Sunday's Challenge for Peace run in Rio De Janeiro, where the costume was a smash. But three miles and more than 20 baths later, he's still unable to revert to human form.

"I spent hours in the bath trying to get this makeup and nothing," he said. "I had to ask for help from my girlfriend. The worst is that the ink has not decreased. The product is impregnated in my body. Even rubbing soap, still green." To sleep, he's had to cover the floor of his bedroom with plastic bags.

The 35-year-old worries he'll not be able to return to work as a pool cleaner and DJ/singer better known as MC Marronzinho. Worse still, there's a fear of lead poisoning. He plans to sue the manufacturer, but probably after he goes to the hospital.

"I was happy to run in my community and show the world that we have good here, and disclose my work as a singer," he said. "Now I'm very sad, not knowing what to do. I am embarrassed by this situation."
Feel no shame, my friend. Instead feel the burn of commitment. That same burn is probably your pride sizzling under the acidic paint, so ignore that second part.