[Interview] Ben McCool – Whippin' Up Comics!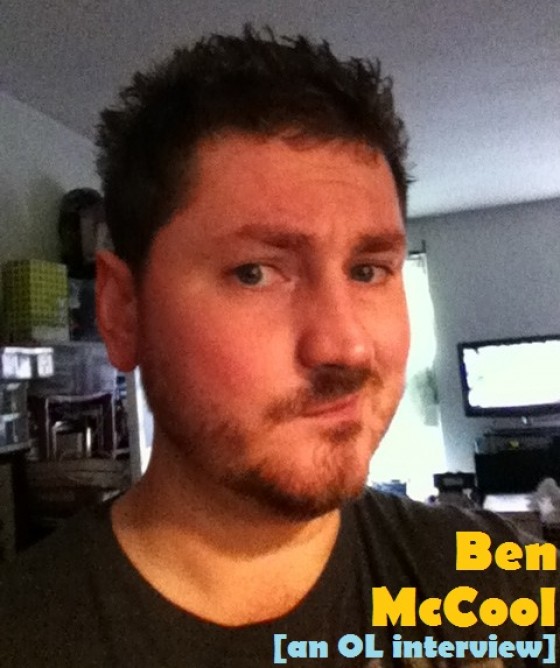 If you're a regular passenger on Spaceship OL, chances're pretty good that your a bit of a comics fan. And if that's the case, you've probably seen the name Ben McCool poppin' up over the last few years. Unless, of course, you're a genuine turkey. But let's assume that this is a turkey-free zone, shall we?
The writer of MEMOIR and CHOKER (amongst others), Ben McCool has quickly established himself as a burgeoning force of nature in the sequential art ecosystem. Yes, it's true that a viscous oil of staid storytelling may pump through the veins of the comic medium. But McCool takes a stab at narrative resuscitation by mainlining a cocktail of novelty, originality, daring, and genuine entertainment directly into the heart.
Yes, I am a fan of Ben McCool.
In fact, I recently found myself sending the British-born scribe a set of questions that I'd conjured up during a moment of half-inebriated super-confidence. To my delight, McCool pleasantly responded! What a gentleman! Hit the jump to check an exchange which includes an exploration of the comic book career path, some insight into what inspires creativity, the sharing of a truly filthy haiku, and plenty more!
–-
– In the year 2009 very few folks would know the name Ben McCool, yet you're now regarded as an emerging bad-ass of comics-scriptin'. Could you describe the road you've taken to get where you are today? What're some of the peaks and nadirs of the last few years?
First up, thanks for the kind words–very much appreciated! It was something of a gradual process "breaking in" to the industry, combining hard work, dedication and luck. I worked in a comic book store back in the day (I think virtually every pro in the industry has at some point), the wonderful Nostalgia & Comics in Birmingham, England, and that's when the idea of writing comics really started to set in.
I'd always wanted to write (or at least, create–my original dream of being an artist was quashed by a shocking lack of skill) and comics had long been a hobby of mine. I loved how they meshed dynamic movie-like visuals with an array of different writing styles; literally, the possibilities seemed endless. And so I started reading comic scripts (working in the store, some of the local professionals like John McCrea, Charlie Adlard and Phil Winslade provided me scripts they'd worked on) and started piecing together the logistics. For a number of years I was pretty lethargic about my writing; general life stuff always seemed to get in the way. But eventually I knuckled down and decided to give my writing aspirations a serious push, and worked ruthlessly around my day jobs. Eventually, I sold my first story to DC Comics (a one-shot issue of Justice League Unlimited) after meeting a very awesome editor called Michael Wright at a convention. The following year I met a certain Ben Templesmith, got along great with him, and we started cooking up what eventually became CHOKER. Issue one was released in February 2010, and I've been keeping myself busy ever since!
– One of the premises behind MEMOIR is the notion that there is something odd with the seemingly-picturesque town of Lowesville, and I was particularly interested in the fluorescent-dystopia of Shotgun City in CHOKER. What do you see as the narrative function of settings, and how do you go about conjuring them up?
To me, the backdrop of a story is almost as crucial as the characters–not only does it help set tone, but also provides the world in which your characters interact, evolve and make decisions. A solid example of setting as an ultra-important narrative function is Ridley Scott's masterpiece BLADE RUNNER: the neon-lit streets, the constant downpour of rain… It was absolutely key to the film's mood and atmosphere, and has influenced countless stories since. Though character is king for a writer, a solid and interesting world in which to contain your fable is almost as valuable.
– CHOKER's Johnny Jackson fulfills the role of the archetypal hardboiled detective — down on his luck, filled to the brim with illicit substances, and yet incredibly talented at what he does. Hell, the very first narrative line he's given is "My name's Johnny Jackson, and I'm in hell right now." Were there any specific inspirations for the character?
I'm a HUGE fan of film noir and (mostly old school) detective novels, and always wanted to write a dark, gritty yarn wherein characters are so loathsome you'll feel like taking a bath once you've put the book down. Raymond Chandler and Mickey Spillane were my favourite authors as a teenager, and so they definitely influenced the noir elements of CHOKER. However, I'm also a sci-fi buff, particularly when it comes to cyberpunk! And so with CHOKER I decided to throw the two genres together to see what I could come up with. The end result being the lunacy that Image Comics very kindly decided to publish…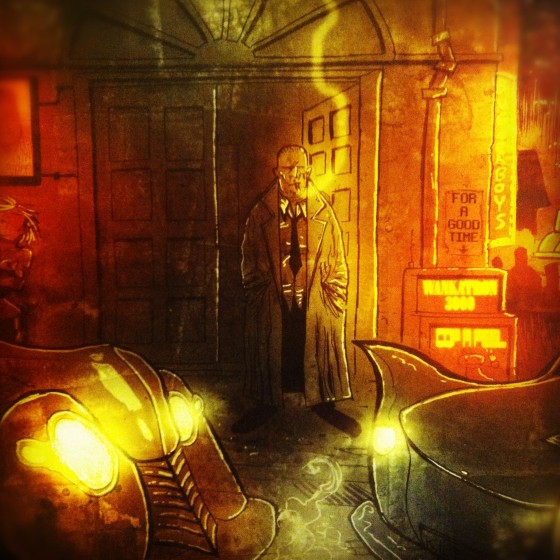 – The first arc of CHOKER (trade paperback release on May 22) has a fairly open ending. What can readers expect from the continuing adventures of Johnny Jackson, Seaton Price, and Flynn Walker?
The intention with CHOKER was always to keep the world and its characters open to future possibility. I guess we're looking at a similar business model to HELLBOY; it's not necessarily an ongoing series, but rather series of mini-series. So watch this space: we're hoping to have more CHOKER out there sooner rather than later!
– What has it been like to work with Ben Templesmith? If you had pick of the artist-litter, who else would you like to work with?
Ben T is an absolute delight to work with. Bags of imagination, great storytelling skills, and a burning passion for all things peculiar. Naturally, he was a perfect fit for CHOKER! He interprets my script extremely well, designed some stupendously awesome characters and brought the book to life majestically. There are an absolute ton of artists out there that I'd love to work with one day, including (but certainly not limited to) Eduardo Risso, Becky Cloonan, R.M. Guera and Jock.
– What're you currently writing and where do you see these projects heading?
I'm buried in a bunch of projects right now, though most of 'em are still unannounced. Boo! But I'll keep you posted with the upcoming stuff. Current projects include PIGS, co-written by my good pal Nate Cosby (whose new book out from Archaia, COW BOY, is as cool a thing I've read in forever) which is about a 2nd generation KGB Cuban sleeper cell that's assigned with the task of overthrowing the US Government. Very controversial, and as a result, abundantly interesting to work on. The historical research was fascinating, and with a bit of luck some of that translates into the book. Breno Tamura and Will Sliney artists on that one.
I'm working on a crazy fun web comic for Namco Bandai called THE FIVE-DIMENSIONAL ADVENTURES OF DIRK DAVIES, based (very loosely) on an old school Namco arcade game, WARP & WARP. I'm working with Dean Haspiel, who's another brilliant artist. It's up on Namco Bandai's ShiftyLook website and is absolutely free to read. Updated every Tuesday and Friday!
Also, I have a graphic novel called NEVSKY coming out in July, published by IDW. It's based on Sergei Eisenstein's classic 1938 film, ALEXANDER NEVSKY, and tells the tale of the aforementioned Nevsky and his fellow Russian soldiers defeating the invading Teutonic Order. Mario Guevara, the artist, has absolutely knocked this one out of the park–I can't wait for people to see the book! It's unlike anything I've ever done before, and was a real treat to work on.
– Which comic books first piqued your interest in the art form? Are there any current titles you're particularly diggin'?
The first comics I read were things like The Beano and The Dandy, followed by DC Thompson's COMMANDO. I didn't start reading American comics until I was 10 (back in 1990… Christ, I'm getting old) and started off with Chris Claremont and Jim Lee's X-MEN. After that I was game for basically anything, but DC Vertigo's titles of the mid-90s (PREACHER, THE INVISIBLES, etc.) really grabbed my attention; they made me realise just how wonderfully diverse the comics medium can be. Right now I'm enjoying the hell out of MORNING GLORIES, SPACEMAN, CHEW, COW BOY, BATMAN and FATALE. Amongst many others… I'll read anything by Nick Spencer, Garth Ennis, Warren Ellis, Ed Brubaker and Brian Azzarello.
– Outside of comic books, where do you find inspiration? Film? Video games? Sexy hobos who sit on street corners and absolutely shred on seven-string guitars?
Plenty of crazy hobos where I live in NYC, lemme tell ya. However, once their riveting inspiration starts to fade I read lots of novels (at the moment I'm going through a Haruki Murakami phase), watch TV (Game of Thrones, Breaking Bad and Person of Interest are all brilliant right now) and love movies (holy shit, was THE AVENGERS awesome!) Inspiration can come from anywhere; it's a creator's job to acknowledge the most productive sources and embellish the hell out of 'em.
– Grant Morrison, Neil Gaiman, Alan Moore, Warren Ellis, Garth Ennis, and Ben McCool — how is it that the United Kingdom has produced so many awe-inspiring comics writers? Is there something in the fish'n'chips?
Hah! Maybe so. Lots of talents seems to emerge from good ol' Blighty when it comes to the entertainment world; guess we're just an imaginative bunch. Also, we're willing to give ANY hobby a try when it rains so bloody much… Luckily, some of us have been able to make careers out of them!
– What advice would you offer to those writers and artists who're hopin' to contribute to the comics community?
Work hard. Network. Never, ever give up. It's easier than ever to get your product "out there" — you can put up a web comic online for free, and as it's the Internet literally *anybody* can check it out. And if you're any good? People will notice. Might take a while (in some cases it can take YEARS) but patience is often rewarded when combined with talent. Hit your local comic convention, buy an editor or publisher a beer and then hand 'em your business card, complete with a link to your fabulous web comic. If you make a good impression there stands a chance they'll remember you, and if they go on to check out your work and like it… Hell, y'never bloody know.
– From what I understand, you're quite a fan of Guinness. If for some reason the formula were to be blinked out of existence, what would be your go-to brew?
Eek! What a dreadful world that would be. But luckily, I'm very fond of a number of different styles of beer, from stoat to pilsner to cask ale. Whenever I travel around the US I always try as many local brews as I can; there's some fabulous stuff made over here, particularly in New England and the Pacific North West. My current favourite: Shipyard's Summer Ale, brewed in Portland, Maine. Top-notch stuff.
– Any final thoughts? An intoxicated diatribe or two? Perhaps a filthy haiku? This is your chance to say whatever you'd like.
I remember seeing this somewhere:
gonorrhea itch / should not have gone up there / oh shit, your sister?
That filthy enough for ya?   😉
–-
Follow Ben McCool – [Twitter] [Blog]