London Resident Have MISSILE LAUNCHERS On Their Rooftops, Courtesy Of The Olympics.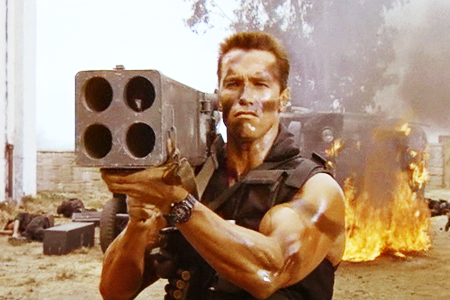 How would you feel about having a high-velocity missile launcher stationed on your rooftop? I'd feel a bit of a villain swag, complimented by being really frightened that there was a death machine on my building's head. London residents are working through these same sort of emotions as they prepare to have weapons of death on their rooftops in anti-terrorist measures during the the Olympics.
The British government and the city of London are absolutely not in any way fucking around with security at this summer's Olympic games. Of the many anti-terrorist techniques they'll be using will be to put missile launchers on the rooftops of residential flats, just in case they have to shoot down something like a hijacked plane in a hurry. And some London residents aren't really happy about it.

An east London estate, where 700 people live, has received leaflets saying a "Higher Velocity Missile system" could be placed on a water tower.  

A spokesman said the MoD had not yet decided whether to deploy ground based air defence systems during the event.  

But estate resident Brian Whelan said firing the missiles "would shower debris across the east end of London".  

The journalist said: "At first I thought it was a hoax. I can't see what purpose high-velocity missiles could serve over a crowded area like Tower Hamlets.  

"They say they'll only use them as a last resort, but… you'd shower debris across the east end of London by firing these missiles."  

Mr Whelan, who claims to have seen soldiers carrying a crate into the building, said his property management company put up posters and gave out the leaflets on Saturday.  

He continued: "They are going to have a test run next week, putting high velocity missiles on the roof just above our apartment and on the back of it they're stationing police and military in the tower of the building for two months.  

"It [the leaflet] says there will be 10 officers plus police present 24/7."  

"I will be asking the government to explain why. The MoD does need to look at this again."  

The leaflet states that members of the Armed Forces will be at the location for a military exercise between 2 and 7 May.  

It goes on to say there will be a "major national exercise" from 2 to 10 May to test the Armed Forces' capabilities for providing security during the Olympics.  

The document added that if the government decides to use the missiles during the Games, the soldiers could be "operationally deployed for a period of up to two months this summer".  

The weapon being considered is a High Velocity Missile (HVM) system, which would be based on the Lexington Building Water Tower. The tower contains residential flats.  

The MoD says in the leaflet that the missiles will not pose a hazard to residents and "will only be authorised for active use following specific orders from the highest levels of government in response to a confirmed and extreme security threat".  

The document states: "Having a 24/7 Armed Forces and police presence will improve your local security and will not make you a target for terrorists.
Christ! As long as we're safe. I'd hate to think we wouldn't sacrifice privacy or anything silly like that in lieu of a goddamn torrent of death being installed on our roofs to combat the terrorists.