'CALL OF DUTY' Creative Strategist 'FourZeroTwo' Resigns. There Was…Creative Strategy?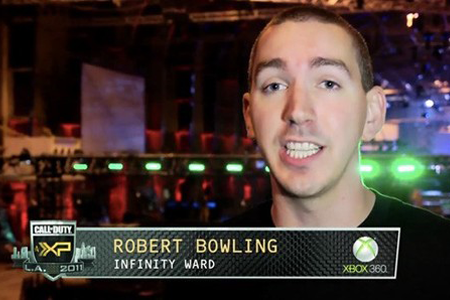 The creative strategist behind Call of Duty  has resigned, prompting me to ask the dickish question. When was the last time we actually found anything resembling creative strategy in the Call of Duty  franchise? From the DLC to the ad campaigns to the treatment of their fans. It's all pretty bland to me.
Longtime hype man for the  Call of Duty  franchise, Robert Bowling, has resigned from Infinity Ward and Activision today. Robert "FourZeroTwo" Bowling, who served as creative strategist for  Call of Duty  and lead at Infinity Ward, just announced his resignation via  Twitter. He has yet to announce where he is going next.

Bowling stayed on at Infinity Ward following the mass exodus of staff who would go on to form  Respawn Entertainment  in 2010.

Here's Activision's official comment on the news: "We sincerely thank Robert for his many years of service. He's been a trusted and valued member of the Infinity Ward team. We wish him all the best on his decision to pursue future opportunities."
Two things prompt further watching. First is what Activision does now. I don't really expect the Goliath-Pig to do anything that remarkable. As they walk the scorched Earth of the FPS community their gargantuan tendrils drag along, sending shivers down the spines of us mere mortals. Second is where FourGuyBowling ends up.