Paperback Orgy: Soul-Swapping, Suicide Booths, and Immortality Inc.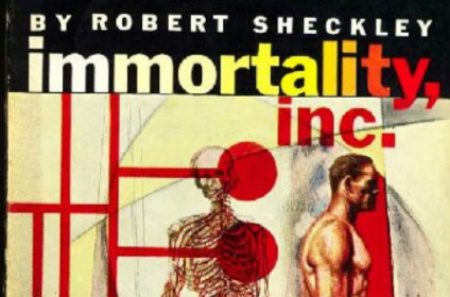 One of the joys of being into sci-fi is that the genre has such a rich history to draw from. Even if I quit my job, touched the monolith, took up speed, and did nothing but devour sci-fi books and movies 24/7, I'd never reach the end. It's a beautiful and exciting thing – especially on the book shelf.   You can go into any thrift store in the world and pick up a sci-fi paperback of yore for a quarter or two. That's a cheap price to pay for a window into our beloved genre's history. I thrift for books a couple times a month to snatch up any sci-fi paperbacks I haven't hoarded yet. Believe me when I say that there are enough used copies of Rendezvous With Rama out there to build a bridge across the Atlantic.
Paperback Orgy will hopefully be a semi-regular column in which I discuss a choice selection from my recent booty. For our inaugural post I want to talk about a book that's been collecting dust on my shelves for a minute now: Robert Sheckley's 1959 comical tale of the soul and the shittiness of rich people…Immortality Inc.
"Afterwards, Thomas Blaine thought about the manner of his dying and wished it had been more interesting."
In 1958 Thomas Blaine was a bright, young junior yacht designer who was happy with his lot in life. Then he died in a car crash on a New Jersey highway. He awoke shortly after in the year 2110 at the Rex Corporation in New York City. Pulling someone out of the past without their consent isn't exactly legal, but the Rex Corp. figures they could use Blaine for publicity and damn the legalities. But the head of Rex Corp. turns yellow and orders Blaine to be dumped out into the streets of 2110 New York. Sure the world has changed in 152 years, but Blaine will catch on quick, right?
So begins Sheckley's absurdist sci-fi yarn about a 20th century man in dizzying 2110 New York. Sheckley sees the metropolis of the future as a smaller, more condensed version of our contemporary one with all of its skyscrapers and such. The buildings have a heavy Asian influence and get smaller to make room for flying cars. There's also a lot of miserable people walking around or waiting in line for the suicide booths. Those booths sound familiar? The Futurama folks definitely were influenced by Immortality Inc.
The suicide booths use a simple injection in the arm so that user's bodies are left in tact for use in Transfers later on. See, for a price, you can have your mind transferred to a different body – usually a much younger one. This procedure is very expensive, so only rich old goobers usually get a Transfer. But like every other commodity in the world, there's a Transfer black market. Shady black market body-snatchers are lurking everywhere in NYC – ready to drug some poor schlub and steal them away to a Transfer.
Elderly folks aren't all that bad though (never thought I'd write that) and some even want to enter the great nothingness instead of transferring their prune-brain into a hunky young body. The really demented elderly kick it up a notch and hire a group of hunters to track and kill them – as one last thrill before they die. Hunting humans is a lucrative business in 2110, as Blaine finds out in the story.
Sheckley fills his novel with an abundance of speculative ideas – there are a lot more than the few I mentioned above. For instance, when Blaine tries Martian cuisine for the first time it's nothing but Chinese food. Turns out the Chinese were the first to colonize Mars. As Blaine and his companion Orc are leaving the Martian restaurant Blaine asks:
"Are there many Martian laundries?"

"Hell yes. Country's filled with them."

"I thought so," Blaine said and paid a silent tribute to the Martian Chinese and their firm grip on traditional institutions.
Marginally and gleefully racist. Thank you, Sheckley.
Immortality Inc. is a quick-witted, dismal look at the future of human exploitation and mortality, but it's got some moments of genuine heart. It's a nice bridge between the traditional "hard" sci-fi and the new wave movement that found its legs in the '60s. Sheckley never focuses on the actual details of the technology, thank the gods. The book has a brilliant, earned twist at the end, one that you might see in a great movie OH WAIT didn't they adapt Immortality Inc. into a movie? Well, sort of….
The 1992 Emilio Estevez/Mick Jagger sci-fiexplosion fest Freejack is apparently based on Immortality Inc. My paperback copy actually says "Basis for the movie Freejack" on the cover, but judging from the trailer, the only aspect taken from the book is the Transfer. I wish Sheckley's novel did take you inside Anthony Hopkins' mind, but it's a blast nonetheless. As I write this, Freejack is available on HBO GO, if you've got the balls.
Sheckley died in 2005 at age 77 due to complications with a brain aneurysm. He wrote a TON of short stories, all of which have been collected over the years in various omnibuses. Another highly influential story of his besides Immortality Inc. is Prize of Peril (1958). In the story, a man competes on a game show in which he must stay alive for a week while people hunt him. This was adapted for German French television – the French version Le Prix du Danger is a seriously kick ass movie. Stephen King claims his 1982 novel The Running Man and the (fantastic) film adaptation of the same name are not based on Sheckley's Prize of Peril. Get off it, King.