Russell Crowe Locked In For Aronofsky's 'NOAH', Set To Film In July.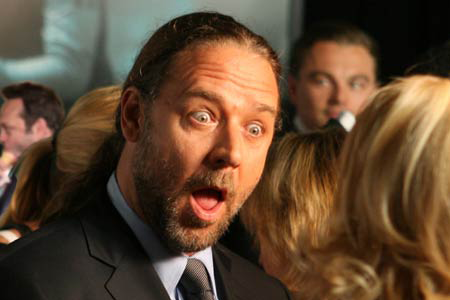 Russell Crowe seems like a sturdy son of a bitch who could both build something and drink too much. This makes him the perfect Noah, a factoid which didn't escape Darren Aronofsky. The director has paused for long enough from directing J. Lo in nauseating Kohl's commercials long enough to land a lead man for his bio-disaster-bibilical-journey Noah.
Deadline says that a formal announcement from Paramount and New Regency should come next week, but that Aronofsky and Crowe are signed and sealed to do Noah based on John Logan's rewrite of the Aronofsky and Ari Handel script, with the shoot starting in July.

With those deals done we should start to hear a lot of other casting, and given the two names already attached, we'll likely see some very recognizable names linked to other roles. Liam Neeson has been rumored for some time to be an antagonist, but we don't know if that will pan out.

Aronofsky has wanted to make Noah, in some form, for decades, and actively began developing the idea for this film around the time of The Fountain. (Or: he started actively talking about it around that time.) It has taken some time to get financing together, and to find an actor with the time and interest to play Noah. Christian Bale was linked, but is making two back to back films with Terrence Malick (Lawless and Knight of Cups) and other actors cropped up as possible choices.
I can't remember the last time I was looking forward to a Crowe movie, though I don't doubt the dude's ability to get his acting on. This may be the flick he needs to draw himself out of doughy phone-throwing oblivion. Yes, you'll noticing I'm not suggesting his performance in  Superman: Snyder's Slow Motion Frat Party  will be the one to do so.