Warren Ellis' GRAVEL To Be Adapted Into Film By Tim Miller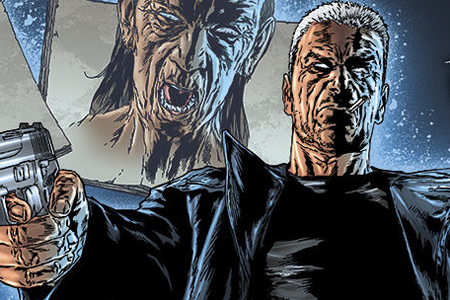 Tim Miller is a super-VFX-wizard whose work you may have seen most recently in the Fincher-powered Girl With The Dragon Tattoo. He was responsible for the opening credits sequence, which was both amazing and probably the only portion of the movie worth watching. Now he is going to helm the adaptation of the Warren Ellis comic book Gravel.
Tim Miller has been set by Legendary Pictures to direct Gravel, a live action adaptation of the Warren Ellis comic book series. Legendary will produce the project with Rick Alexander, with Ellis as executive producer and Oliver Butcher and Stephen Cornwell are writing the script.

Published by Avatar Press, Gravel revolves around the character William Gravel, a soldier in the British S.A.S. who uses his skills in dark magic to moonlight and battle supernatural beings for clients in order to make some extra cash. Miller last year was hired by Fox to direct X-Men Origins: Deadpool, the spinoff film that is in development and based on the character that Safe House star Ryan Reynolds played in Wolverine.

Miller is the co-founder and owner of Blur Studio, a CG animation studio known for its video game cinematics. Miller directs many of those, most recently including the unforgettable title sequence in the David Fincher-directed The Girl With The Dragon Tattoo. Gravel will be released by Warner Bros through Legendary's overall agreement with the studio. Miller's repped by WME and Anonymous Content.
I could never get into Gravel, though in earnest I never gave it much effort. However it is Warren Ellis, and I love the work of Miller's that I am familiar with. So let's rock!
Thoughts? Impressions?