A PIMP'S Android Pattern Lock Defeated The Feds. Lock Screens +1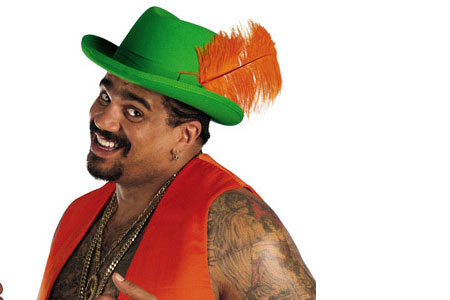 I have a friend who has an Android and I can never guess his dumb fucking lock pattern. So I just do it so many times that it locks itself out and then I laugh at him. Depending on your perspective, I'm in good company. The Feds!
Pimpin' ain't easy, and if you want to keep the prying eyes of your hos or the cops off your phone, apparently the best way to keep it locked is not with a four digit pin, but a pattern lock. The Feds are currently unable to prosecute a San Diego pimp for his pimping because they can't crack the pattern lock on his Android phone. Fo shizzle.

Dante Dears was recently paroled from state prison recently after serving time for his founding role in the Pimpin' Hos Daily organization (PHD). Yes, that's the real name of the group and its purpose is exactly what the name implies. Since the conditions of his parole dictated he wear a GPS tracker that confined him to his home, Dears ran his pimpire from there using a standard Samsung Android.  

When the FBI got wise to his plan, they confronted Dears about the phone-pimping. Dears immediately claimed the phone belonged to his sister and refused to give up the unlock pattern even though they confiscated the phone. So the Feds sent the Samsung to its Regional Computer Forensics Lab in Southern California for cracking.  

That didn't work out as well as they had hoped. Technicians "attempted to gain access to the contents of the memory of the cellular telephone in question," said the FBI, but were unable to decipher Dears' password before the system shut them out permanently for excessive login failures. The only way to get into the phone now is with Dears' Google account credentials, which he'll share just after he divulges the unlock pattern, so the FBI is SOL right? Wrong!  

The FBI has now filed for a new warrant against Google requesting pretty much everything they would need to build a case against Dears, including:  

-The subscriber's name, address, Social Security number, account login and password
-"All e-mail and personal contact list information on file for cellular telephone"
-The times and duration of every webpage visited
-All text messages sent and received from the phone, including photo and video messages
-Any e-mail addresses or instant messenger accounts used on the phone
-"Verbal and/or written instructions for overriding the 'pattern lock' installed on the" phone
-All search terms, Internet history, and GPS data that Google has stored for the phone
Guess I should stop just spelling "balls" on my iPhone screen, amirite? Who knows when my life of integalactic smuggling is going to catch up to me.