Face of a Franchise: Anakin Skywalker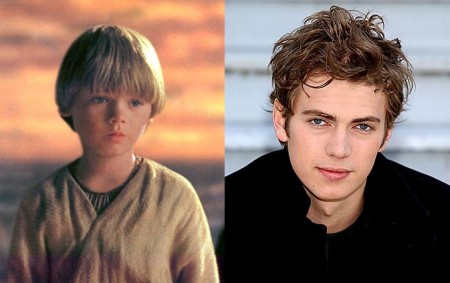 [face of a franchise presents two individuals that've fulfilled the same role. your task — choose the better of the two and defend your choice in the rancor pit that is the comments section]
In 1977, moviegoers were introduced to Darth Vader – an evil, robotic space-samurai capable of manipulating an invisible shroud of mystical energy that blankets the entire universe. Oh, and he also has a goddamn laser-sword.
In 1999, Jake Lloyd was given the opportunity to play the childhood incarnation of Darth Vader – a little boy named Anakin Skywalker. Lloyd comes across as an overly-optimistic, stiff, terribly scripted, and ultimately unaffecting playground-dweller.
In 2002 and 2005, Hayden Christensen took hold of the reins as he played the part of teenyboppin' pre-Vader. Through his performances, Christensen proves that the Dark Lord of the Sith was once an unnecessarily moody, stiff, terribly scripted, and ultimately unsympathetic teenager.
It's a question none of us want to think about…
Who's better – Jake Lloyd or Hayden Christensen?
I can't wait to see the comments on this one.