Trent Reznor Scoring Fincher's "The Girl With the Dragon Tattoo"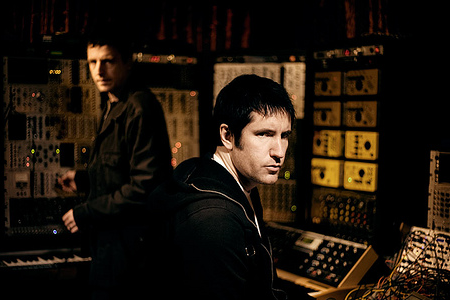 Oh yeah! How about some late Friday night news off your tits? Trent Reznor is once again working with David Fincher. After absolutely rocking out on the Social Network score with Atticus Ross, it's been revealed that Mr. NIN is returning for Fincher's The Girl With the Dragon Tattoo remake.
Briefly: Not a lot of info right now, but during a New York Times livestream interview with Trent Reznor, the musician revealed that he is scoring David Fincher's version of The Girl With the Dragon Tattoo, and has been working on the film for about six weeks. He said to expect something different from his score for The Social Network, though things might change in the year before the film opens.
Little Bleeder Scorpio tells me that the news originated within a  Times Talk broadcast with Reznor, and that Atticus Ross  isindeed involved. The two of them have been working on the score for a couple of months now. Reznor apparently also talked about his non-soundtrack music career, and said that he had no plans for more NIN.

A "disgustingly huge" Reznor fan at  Filmonic was tuned in and offers this information:

In the interview, Reznor stated that words such as "ice" and "frozen" have inspired the new score, and that it is performance-based, with him playing strings (violin, 'cello, etc.) to the best of his abilities, and then placing those performances through various processing. It sounds interesting. The score for  The Social Network used entirely electronic sounds and instruments. Reznor was due to perform / play some of the new music for  Girl with the Dragon Tattoo during the interview, but unfortunately was unable to prepare for it and thus perform it, due to the passing away of his mother last Sunday.
Fucking fantastic.  These two dudes have been collaborating together for a while now. Closer was used in Se7en, Fincher directed a video for Nine Inch Nails' song Only, and there's the aforementioned work on the Social Network. And since I have a pants ripping hard-on for both of the dudes, this is fanboy wankery to me.